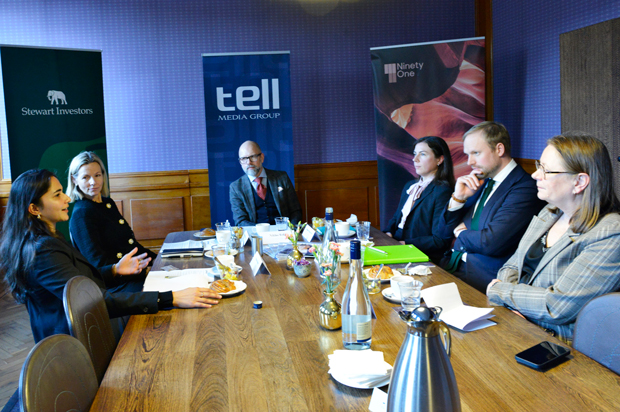 Sustainability challenges and opportunities in emerging markets
At the beginning of the year, Tell Media Group, in cooperation with Ninety One and Stewart Investors, organised a roundtable discussion in Stockholm with Swedish investors, focusing on sustainable opportunities in emerging markets equities.
Niklas Tell 2023-03-23
The discussion started out with Niklas Tell, founder of Tell Media Group and moderator of the discussion, asking the investors about their general view of emerging markets and whether now is the time to change the allocation to emerging market equities.
SUSANNE BOLIN GÄRTNER: "I would say that emerging markets is an area that's always of interest to us. But that said, we're actually working on some searches specifically on emerging markets right now."
GABRIEL LUNDSTRÖM: "The primary focus for us is getting more ESG-focused funds onto our unit linked platform and that has been more of a challenge when it comes to emerging markets compared to global or Swedish equities. We hope to see more. With new regulation, we also need to be more transparent and provide more data and that's also more difficult when it comes to emerging markets."
CHRISTINA BERG: "We don't have any exposure to emerging market equities in our institutional portfolio and one of the reasons was sustainability concerns given the fact that we invest passively when it comes to our equity exposure. We could have exposure to emerging markets through green bonds but not on the equity side. On the unit-linked platform, we have a handful of emerging market funds and we recently added an Article 9 fund, of which there are not many to choose from yet. We haven't seen flows into emerging markets on the platform yet but I guess that will come as performance improves."
GABRIEL LUNDSTRÖM: "Christina, you mentioned that one reason for not having exposure to emerging market equities was sustainability concerns. Is that mainly due to the fact that there are no funds that fulfil your criteria, is it lack of data or something else?"
CHRISTINA BERG: "When we took the decision, we couldn't find an index fund that fulfilled our criteria and we also found there was a lack of data. We also had other concerns regarding emerging market equities and it wasn't only about sustainability. The allocation decision was a few years back."
JULIANA HANSVEDEN: "I fully understand that because we don't have enough quantitative data when it comes to sustainability in emerging markets, so I think it's difficult to have a passive sustainable strategy in this area. You need to sit down with each company and ask your questions in order to do a deep analysis of sustainability."
SUSANNE BOLIN GÄRTNER: "When you did that search for a new fund to the platform, did you only search for Article 9 funds or did you search broader than that? Personally, I think it's a bit early to limit searches to specific numbers."
CHRISTINA BERG: "The focus was on Article 9 funds but we also looked at some Article 8 funds where we knew that the sustainability work was good."
SUJAYA DESAI: "I think it's fair to say that all of the sustainability challenges that we're facing in the world today are just heightened in emerging markets. For us, it's about ensuring that the companies that we invest in are either aware of and can handle these sustainability challenges or alternatively that they are coming up with solutions to address the challenges."
A PDF of the complete summary from the roundtable can be found here.
//Participants
SUSANNE BOLIN GÄRTNER, Head of fund selection and management at Danske Bank
CHRISTINA BERG, Senior manager research analyst at Länsförsäkringar
GABRIEL LUNDSTRÖM, Head of ESG at SEB Life & Pension
SUJAYA DESAI, Portfolio manager at Stewart Investors
JULIANA HANSVEDEN, Portfolio manager at Ninety One