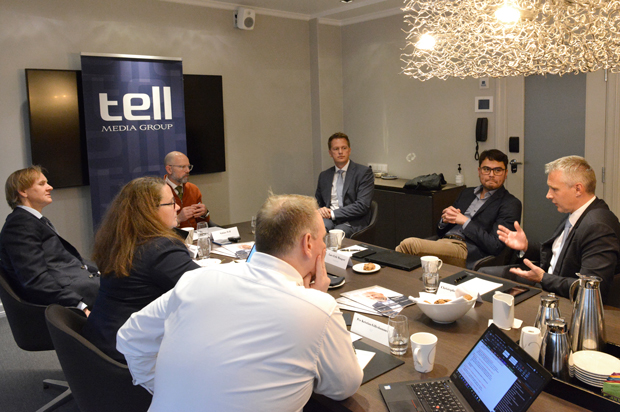 Diverging opinions on standardised reporting
At the end of last year, Tell Media Group, in cooperation with Federated Hermes, Impax Asset Management and Stewart Investors, organised a roundtable discussion in Oslo with Norwegian investors, focusing on impact investments in listed equities. Tell Media Group founder Niklas Tell moderated the discussion.
Niklas Tell 2023-01-04
The discussion started out with Niklas Tell asking the investors how they would define impact investing and to what extent terminology is a challenge.
GEORG SKARE LUND: "We have a fairly narrow definition of what impact investing is. In short, it should be an investment that contributes to a better world in a positive way and we think it should satisfy a few criteria. One is materiality. Another is additionality – it should facilitate something that's not already covered in the market and we also think there should be an intention behind it. We also think that it should be possible, at least conceptually, to measure."
LARS ERIK MANGSET: "The term impact investing has been narrow for a long time and especially this aspect of additionality has been a strong criteria that has been central to the attention. However, I think that the term is up for revision. When we're talking about more traditional impact investing, typically in the unlisted space, I think that the definition holds. What we're seeing though is this more general aspect of creating a relationship between corporate action and what the investors are working for. With the ESG backlash we're seeing, I think it's increasingly important for investors and asset managers to be clear about the intention of what's being done. Is it about reducing volatility and financial risk or are you trying to contribute to something positive? I think it's especially important to be very clear about what you mean when talking about impact, especially in the listed space. Here, I think we should distinguish between impact alignment and impact generating. The impact generating investments would be the stuff that's additional whereas impact alignment will be more relevant in the listed space. In essence, it's the companies that are generating the outcome and as an investor you align yourself with that outcome. I think it's a very interesting terminology and it's also actually a draft from Eurosif, which is looking into a classification system for sustainable investments."
PER KRISTIAN GILLESHAMMER: "I would like to challenge some of the points that have been made. Firstly that there needs to be an intention behind it. Principally, I agree but impact is impact whether or not the intention behind it was there in the first place, so intentionality would be the first criteria to go in my mind. Also, I like the nuance you're making regarding generating and aligning. But I think the intended end result is the same – so it's simply different routes to get to the same end goal."
LARS ERIK MANGSET: "But when we're talking about impact investing, it implies that you're doing something as an investor. You will have companies that will generate the outcomes and then you have to ask yourself if they will do it with or without you. When you bring that perspective into the equation, I think that intentionality will be relevant."
MARTIN TODD: "I would make a differentiation between investing in companies that are having impact today – you can call that enterprise impact or company impact – and the investor impact. For the latter, it's about the impact you're having as an investor, which could be an impact on the cost of capital for example. For this, engagement over time is critical. When it comes to the terminology, I don't think it has been quite as warped as ESG as a term has been. I think most people have a pretty reasonable grasp on what impact is whereas I think there's still a huge amount of confusion when it comes to ESG and sustainability in terms of different interpretations."
BARBARA HEAP: "We believe that you need to have intentionality and also that you need to be able to quantify it. We've been providing measurement of impact for the past seven to eight years and we even have that externally verified. Additionality is a trickier question. On the private equity side, there's no question that we have additionality because we're financing projects that wouldn't exist if we weren't backing them. It's less clear cut on the listed equity side and I think it's more about being aligned, as Lars Erik mentioned earlier. But we should not underestimate the impact we can have on firms through engagement."
NIKLAS TELL: SO, IS THE CHALLENGE NOT SO MUCH THE TERMINOLOGY AND DEFINITIONS BUT RATHER THE MEASURING AND REPORTING?
CHRISTOPHER MCGOLDRICK: "Listening to our discussion, I actually feel sorry for savers. As an industry, we're creating words that are essentially meaningless. What we're aiming to do is to enlarge people's purchasing power through investing in companies that are doing something good for the world. With regards to the term impact, I feel quite cynical. In an industry such as ours, it's often used for asset gathering and as a marketing tool rather than something that should be integral to the investment process. What we're really saying is that we're looking at a range of problems that the world faces and we then supply capital – people's savings – to help companies solve these problems."
The roundtable discussion was published issue 06 of Nordic Fund Selection Journal. A PDF of the complete story can be found here.

//Participants
GEORG SKARE LUND, Head of manager selection at Storebrand Asset Management
LARS ERIK MANGSET, Head of sustainable finance at Grieg Investor
PER KRISTIAN GILLESHAMMER, ESG analyst at KLP
MARTIN TODD, Portfolio manager, sustainable global equity, impact opportunities at Federated Hermes
CHRISTOPHER MCGOLDRICK, Senior investment analyst at Stewart Investors
BARBARA HEAP, Portfolio specialist at Impax Asset Management