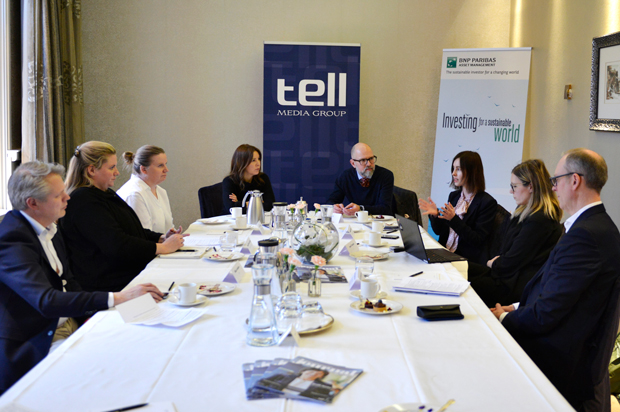 Challenges of implementation, impact and global consensus
Earlier this year, Tell Media Group, in cooperation with Allianz Global Investors, BNP Paribas Asset Management and American Century Investments, organised a roundtable discussion at Hotel Kämp in Helsinki with Finnish investors, focusing on climate change policies.
Niklas Tell 2023-04-17
The discussion started out with Caroline Liinanki noting that climate policies are ever-evolving with increased knowledge and better access to information. She then asked the investors about how some of the first versions of climate policies compare to those of today and what have been the key developments and achievements over the years.
ANNA HYRSKE: "They looked very different from today. When the responsible investment industry started to take form at the beginning of 2000, especially in the Nordics, it was very much about screening and exclusions. It was very black and white and we didn't really talk about engagement. Also, the term responsible investment didn't exist and everything fell under the umbrella of ethical investing. That was problematic in itself for institutional investors that didn't have faith-based values as their core operational framework. I think it has been an impressive development so far. When it comes to climate policies and regulation, we need to recognise that it needs to start somewhere. The first version of anything is rarely the perfect version. Even our accounting standards were not built in one day. Some came in 1920s and we are still seeing changes and to me, it's therefore perfectly natural that we're seeing changes also in this area. Carbon accounting may look like it's all over the place and that's because it is. We know some of the problems, such as Scope 3, but if we don't try to calculate what we can, we will not find the solutions. It's very easy to stand on the sideline and be an expert. If you go and watch a game of professional football, you will have 10 000 people in the stands who think they are better than the players on the pitch. But you really need to be on the pitch and play."
MATT CHRISTENSEN: "If we go back some 20 years, it was all about disclosure and all the parts of ESG were very separate. I remember a time when the governance people wouldn't talk to the social and environmental people, so we've come a long way. The challenge now is getting the whole industry to not just disclose things, which is hard enough, but to define how we implement different policies, for example how to reach net zero."
ANNA VARPULA: "I think initially we focused very much on the risk and return analysis and, of course, the carbon footprint. Now, we also need to consider and find measurements for the outcomes and the impact of the investments. In addition, we also have more science-based data and targets today."
ANNA HYRSKE: "How to talk about and measure the impact is far more interesting than just talking about the policies. What are you actually achieving with the policies you have?"
GABRIELLE KINDER: "Implementation of low carbon initiatives has been made harder in the past by the fact that we've been chasing a moving target. Some eight years ago, working as a consultant, we were trying to help companies reduce emissions by 10 per cent and this was seen as huge success at that time. We've come so much further today with much greater ambition and a consensus around reaching net zero. While a consolidation around a target is a huge help for policies, we also have to remember that zero is a very small number and it leaves no margins for error."
SARAH BRATTON HUGHES: "I will challenge that a little bit because I don't think there's a consensus of net zero on a global level. Especially if you bring the US into the equation. I also think that we will move beyond the focus on net zero and that the 'carbon-at-all-cost' agenda is probably not the way we should look at it. It was the right thing to start with but we should be looking at implied temperature rise rather than just emissions and we should be looking at best in progress. Not every oil company will survive but if we simply screen all of them out today, we will screen out the Ørsted of the future. My worry is how we engage the rising anti-ESG movement. Take Texas for example. If Texas was it's own country, it would be fifth in the world based on the clean energy it produces but it also has a big oil industry with skilled workers. What Texas has right now is a just transition problem, so we need to make them part of the solution and not simply exclude them, because we aren't going to be able to decarbonise without them."
The roundtable discussion was published issue 02, 2023 of Nordic Fund Selection Journal. A PDF of the complete story can be found here.
//Participants
ANNA VARPULA, Director of responsible investment, Elo
ANNA HYRSKE, Principal responsible investment specialist, Bank of Finland
MIKA LESKINEN, Chief investment officer, S-Pankki
MATT CHRISTENSEN, Managing director, global head sustainable & impact investing, Allianz Global Investors
GABRIELLE KINDER, Investment specialist and environmental analyst, environmental strategies group, BNP Paribas Asset Management
SARAH BRATTON HUGHES, Head of sustainable investing, American Century Investments