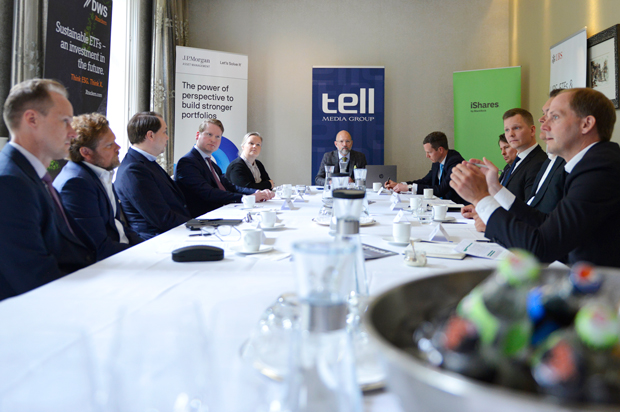 SFDR and other ESG challenges for ETF investors
In June, Tell Media Group, in co-operation with Blackrock, DWS Xtrackers, Invesco, JPMorgan Asset Management and UBS Asset Management, invited Finnish ETF investors to discuss trends within the industry at Hotel Kämp in central Helsinki. Tell Media Group founder Niklas Tell and FBNW editor Janina Sibelius moderated the discussion.
Niklas Tell 2022-09-12
The discussion started with Janina Sibelius asking the investors at the table how they are currently using ETFs and if this has changed over time.
MARKO ALARAATIKKA: "We manage a lot of customer mandates and we mostly use our own in-house managed funds to do that. We do, however, use ETFs as a complement and we've been fairly active when it comes to factor ETFs. We've also seen more and more customers asking us to provide solutions, which would mean building model portfolios with various risk levels only using ETFs."
TONI IIVONEN: "We manage a range of fund-of-funds and we use in-house funds but also a range of ETFs, both within equities and fixed income. We see them as building blocks for the portfolios we construct on behalf of our institutional clients where we follow their investment mandate."
MIKAEL LÖFBERG: "We don't have any in-house solutions so we build portfolios with external providers. Today about a quarter consists of ETFs and that's mostly sector or thematic specific ETFs. The share of ETFs has been growing over the last couple of years and it will likely grow further. We're not trading very frequently but the ability to react quicker with an ETF is a benefit."
HARRI KOJONEN: "We use ETFs in the same way as any other instrument. It's basically an instrument we use in order to fulfil the desired investment profile. At OP, we have a range of in-house products, both active and passive, and for us it's many times cheaper to use our in-house passive funds rather than an external ETF. We have, of course, seen the growth of new products, especially in fixed income, so there's the possibility to gain very specific exposures. However, the AUM of these funds is often too small for us. That said, we've started to use more ETFs at the expense of active external funds, which we previously used for small caps and for exposures outside of Europe, for example. One reason for continuing to use internal funds is that we keep more control, not least when it comes to ESG matters."
The roundtable discussion is published in our annual ETF supplement, distributed with issue 04 of Nordic Fund Selection Journal. A PDF of the complete story can be found here.
//Participants
PETER LIDBLOM, Head of passive product distribution Nordics, DWS Xtrackers
FLORIAN CISANA, Head ETF & index fund sales Nordics, France and Israel, UBS Asset Management
TOBIAS NILSSON, Head of ETF distribution Nordic Region, JPMorgan Asset Management
WILHELM SCHAUMAN, Head of iShares institutional sales in the Nordic Region, iShares by Blackrock
FREDRIK NILSSON, Head of ETF business development, Nordic region, Invesco
TONI IIVONEN, Chief investment officer of Elite Alfred Berg
HARRI KOJONEN, Strategist & portfolio manager at OP Wealth Management
MARKO ALARAATIKKA, Senior portfolio manager at S-Pankki
MIKAEL LÖFBERG, Chief investment officer of CapMan Wealth Services