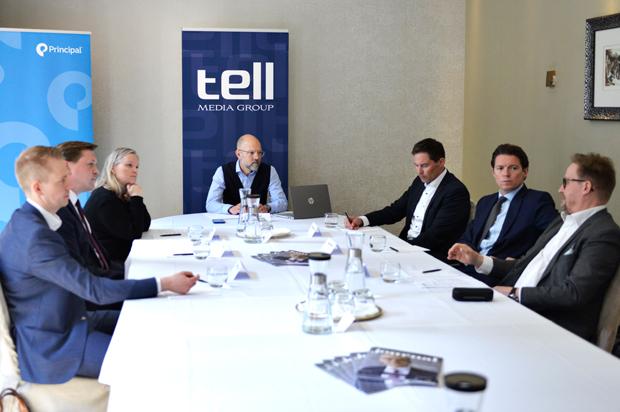 Inflation, valuations and ESG reporting challenges
Just before the summer, Tell Media Group, in cooperation with Nuveen and Principal Global Investors, organised a roundtable discussion on real estate investing in Helsinki.
Niklas Tell 2022-09-20
The discussion started out with Niklas Tell asking the participants to share their broad views on real estate and where they see opportunities going forward with the pandemic being behind us and central banks starting to fight inflation more aggressively.
DAVID PEARCE: "We're still seeing a big divergence across sectors and we've seen both winners and losers over the last couple of years. Retail is still having some challenges to get through as we have this cost of living crisis and rising inflation. On the flip side, logistics is going from not being the most favoured sector to the darling of the real estate market. In general, I think the area of interest will be the alternatives market, which has structural drivers behind it and there's still capital chasing that as investors want to get more exposure. What has concerned me more recently is what we're seeing in terms of cost of debt and financing and how that will affect real estate yields. As we move into the second half of this year, I think there will be some price adjustments coming through, especially when it comes to office sector."
GILES SMITH: "As we've come out of the Covid situation, we've seen an increased focus on those alternative sectors, such as data centres. During the pandemic, we were all stuck around Teams meetings and people started realising this could be a real estate investment as well with the infrastructure that needed to be in place. It's a developing market and there will be significant demand. There are other sectors as well, such as life science and health care. These alternative sectors are underpinned by the great thematics, such as demographics for healthcare and the growth of technology when it comes to data centres. However, to the point David made – these are relatively small markets compared to logistics or offices, so the challenge is to be able to source deals. You also need the expertise in-house."
MARKUS NORDBERG: "I think what you just said Giles about in-house expertise is not only important in the alternative sector but will be highlighted across all assets. Investment selection needs to be even more rigorous today and deep expertise is more critical now than in the cap rate compression environment before Covid. You need to have the right assets and it goes across sectors. If you invest in the office space, you need to have the right post-pandemic prime office space and it needs to be super ESG in order to attract rising rents. If you're in logistics, you want to have the right modern logistics buildings."
KARRI MÄKITALO: "I agree with Markus that you need to have the right building with the right tenants. We must, of course, also keep an eye on the rising cost of living and rising inflation. One question mark that I have is what will happen to the loan-to-value ratios. We need to be careful when selecting projects that we participate in. It's one of the biggest worries for me because you have investors such as insurance companies investing under Solvency II and for them these are important measures."
TONI PERÄTALO: "Yes, you absolutely need expertise when it comes to these niche segments such as data centres and modern logistics buildings. Location is, of course, one aspect but one must also think about new technology when it comes to logistics, for example where you can have robotics and automation. We need to understand the systems in place and whether that system is tied only to the current user or whether the technology and the building are also flexible for other tenants' purposes in the future."
The roundtable discussion is published issue 04 of Nordic Fund Selection Journal. A PDF of the complete story can be found here.
// PARTICIPANTS
KARRI MÄKITALO, Alternative investments at Aktia
TONI PERÄTALO, Portfolio manager at LocalTapiola Alternative Investment Funds
MARKUS NORDBERG, Portfolio manager, private real estate at Mandatum
DAVID PEARCE, Fund manager, real estate Europe at Nuveen
GILES SMITH, Head of fund management at Principal Global Investors