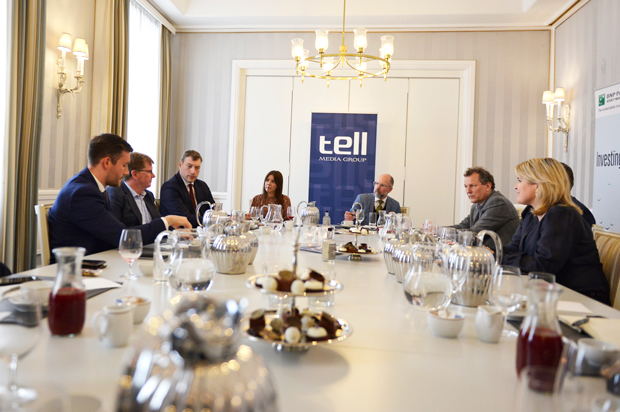 Debating climate transition and net zero investing
Earlier this spring Tell Media Group, in cooperation with Abrdn, Allianz Global Investors and BNP Paribas Asset Management, organised a roundtable discussion on the climate transition and net zero investing at Hotel d'Angleterre in Copenhagen. Tell Media Group founder Niklas Tell and Nordic Fund Selection Journal editor Caroline Liinanki moderated the discussion.
Niklas Tell 2022-06-17
The discussion started out with Caroline Liinanki asking the Danish pension fund participants about some of the main challenges when it comes to the green transition.
JAN KÆRAA RASMUSSEN: "There are two general themes or trends that I think are important here. Firstly, it's clear that there's a lot of capital looking for good green projects with a low risk profile and that space is more crowded today compared to only a couple of years ago. Secondly, the world is in need of massive investments in modern climate solutions and the need has grown even stronger after the Russian invasion of Ukraine as we're now talking about energy security in addition to climate change issues. This means that there's an increasing need for more capital willing to take higher risk as opposed to the situation today where most of the capital is looking for low risk green investments."
MIKAEL BEK: "The world has changed following the Russian invasion of Ukraine. With rising interest rates, there's suddenly an alternative for investors looking for low risk investments as we now actually can get some returns in fixed income. As Jan mentioned, the returns on green projects are currently low with a lot of capital chasing the same investments. An investment in a solar park in the US will probably give you a return of some 4 per cent. We need more projects and we need higher returns. Another challenge is the question of what is 'green' but I assume we will come back to that. I would also like to mention that we will probably need support from the government when it comes to new technologies in this space. When the wind market first developed, we had support from the government with guaranteed returns and I'm convinced that helped build that market."
CHARLOTTE MANSSON: "We see a lot of demand around the transition to low carbon models. Investors are looking for indicators to identify companies that have transition plans in place and companies that have delivered commitment at a certain level. I think there's a big opportunity in the transition space where you have existing companies looking to transition to something new."
The roundtable discussion is published in issue 03 of Nordic Fund Selection Journal and a PDF of the complete story can be found here.
//Participants
JAN KÆRAA RASMUSSEN, Head of ESG & sustainability at PensionDanmark
MIKAEL BEK, Head of ESG at Pensam
CHARLOTTE MANSSON, ESG product strategy & commercialisation at Sustainalytics
BLAIR COUPER, Investment manager, global equities at Abrdn
DAVID FINGER, Senior portfolio manager thematic equity at Allianz Global Investors
ULRIK FUGMANN, Co-head environmental strategies group at BNP Paribas Asset Management