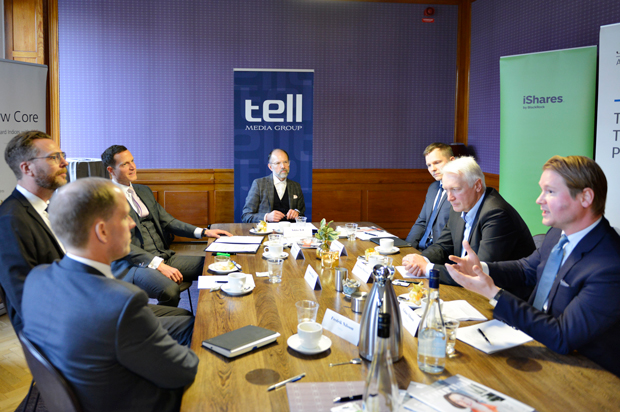 Balancing economies of scale with ESG customisation
In late September, Tell Media Group, in co-operation with BlackRock, Invesco, JPMorgan Asset Management and UBS Asset Management, invited Swedish ETF investors to discuss trends within the ETF industry. The discussion, which was held at Nobis Hotel in central Stockholm, was moderated by Tell Media Group founder Niklas Tell.
Niklas Tell 2021-10-26
The discussion started with Niklas Tell asking the investors at the table how they are currently using ETFs and if this has changed over time.
JONAS THULIN: "I would say ETFs make up about 80 per cent of what we use for the entire asset management operation. On top of that, we do some stockpicking and we also use some mutual funds. We use ETFs for active trading and we don't really care much about this active versus passive discussion. We're active and it doesn't really matter to us if the underlying instrument is so-called active or passive. We screen some 58 000 ETFs every day to optimise our portfolios and we hold about 13 ETFs, so it's quite an aggressive approach. We're a small house and that's our strategy to stand out from the crowd. I would trade differently if I was a hedge fund and I would trade differently if I was a big bank."
KRISTIANS MIKELSONS: "I run asset allocation portfolios for institutional clients and most of what we use to build our portfolios are ETFs. This is both for long-term strategic holdings and also for more tactical positions."
NIKLAS TELL: LOOKING BACK OVER THE LAST 12 MONTHS, WHAT HAVE BEEN THE MOST SIGNIFICANT PRODUCT DEVELOPMENT TRENDS WHEN IT COMES TO ETFS AND HOW WOULD YOU DESCRIBE ETF FLOWS SO FAR IN 2021? IS IT STILL ABOUT FIXED INCOME AND ESG?
FLORIAN CISANA: "If I start from a product development perspective, I currently see five topics. Sustainability is, of course, one. We've seen a lot of new products being launched and we've moved from 324 ESG ETFs globally at the end of 2019 to 695 at the end of July 2021. While number of ETFs have doubled, the assets have increased by factor five, so from USD 66 billion at the end of 2019 to USD 309 billion at the end of July 2021. Thematics is another topic, partly connected with sustainability, where we see a lot of new products. Other topics are active ETFs as well as China. The final area is digital assets, even if we from a regulatory point of view are not yet able to launch cryptocurrency ETFs under UCITS and SEC rules."
FREDRIK NILSSON: "If I may zoom out a little bit from pure product development trends and add that we are more and more seeing the benefits of competing with a global platform. The last year has been particularly strong for cross-regional flows. We have seen record flows from EMEA-based clients into our US-domiciled ETF range, as well as very strong inflows from Asia-based clients into our UCITS range."
NIKLAS TELL: JONAS, HOW IMPORTANT IS PRODUCT DEVELOPMENT IN THIS SPACE TO YOU? YOU SAID YOU SCREEN 58 000 PRODUCTS EVERY DAY, SO DOES IT MATTER IF SOME NEW ETFS ARE BEING LAUNCHED?
JONAS THULIN: "Absolutely. The more specific and narrow an ETF, the better for us as we're able to more specifically express our views. Product providers are not really launching ETFs with broad exposure to a sector but rather to very specific areas. So not exposure to IT broadly but rather to semi-conductors, for examples."
KRISTIANS MIKELSONS: "I agree. We incorporate a thematic approach and it's of course a benefit if we can find very specific exposures through ETFs."
WILHELM SCHAUMAN: "These are broadly the same themes that we are seeing. If we go a little bit deeper on the sustainability theme, we see that the implementation preferences of investors vary. Some investors prefer to limit their exposure to fossil fuels, some are looking to incorporate more forward-looking ESG measures like physical risk and others would like to take a more targeted approach with sustainable thematic strategies or impact investing. We have built, and continue to evolve, our platform to meet these needs. I agree with what Jonas highlighted on investor interest for more targeted and specific exposures. For equity ETFs, there's a vast offering of specific exposures. However, we also see demand for increasing granularity in fixed income and we have recently launched new strategies that address this."
NIKLAS TELL: FLORIAN MENTIONED ACTIVE ETFS AS ONE OF THE TRENDS. DO YOU AGREE WITH THAT, TOBIAS?
TOBIAS NILSSON: "Yes I do. We're on track for another record industry year but we also see active ETFs starting to really gain ground. In the US, it constitutes 12 per cent of flows and in UCITS it is starting to resonate with 3 per cent of flows year to date. The introduction and growth of that low tracking-error active-ETF category alongside passive, ESG, smart beta, thematic is an important development. That trend is not only for longer term strategic holdings in equity but also in fixed income. In terms of ESG, for that range in particular, we see more client due diligence on integration compared to our passive or quant side, which is more exclusions or active ownership orientated."
A PDF of the full summary from the roundtable discussion can be found here.
// PARTICIPANTS
FREDRIK NILSSON: Head of ETF business development, Nordic region at Invesco
TOBIAS NILSSON: Head of ETF distribution Nordic Region at JPMorgan Asset Management
FLORIAN CISANA: Head UBS ETF & index fund sales Nordics, France and Israel at UBS
WILHELM SCHAUMAN: Head of iShares institutional sales in the Nordic Region at BlackRock
KRISTIANS MIKELSONS: Portfolio manager, asset allocation at Swedbank Robur Fonder
JONAS THULIN: Head of asset management at Erik Penser Bank