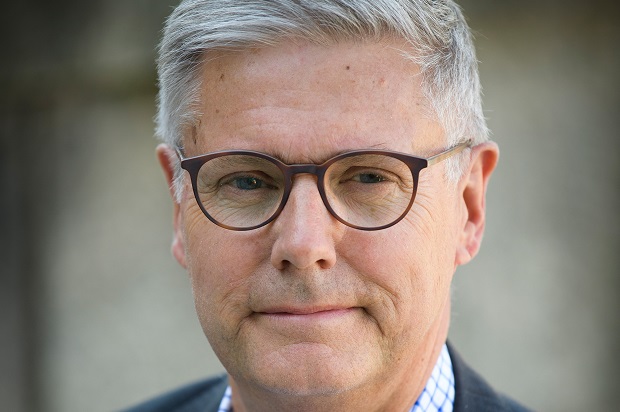 Anders Thorendal retreats from the Church of Sweden
Anders Thorendal, the long-term chief investment officer of the Church of Sweden, looks back at his time heading up the church's investments as his retirement approaches.
Janina Sibelius 2021-11-08
After 16 years in charge of the investments at the Church of Sweden, Anders Thorendal will be retiring at the beginning of November. With a new board and investment committee coming in from December, the long-term chief investment officer and treasurer says the timing is well-suited for him to step aside and let his successor start from anew.
Long before turning mainstream, responsible investments have been a key part of the church's investment strategy and Anders Thorendal says this has given more meaning to his work. "I was, of course, aware from the beginning that sustainability and ethical issues relating to the investments were important for the church, but that these aspects would also be a kind of 'driving force' for our investments in a positive way was something that more gradually became obvious to me," he says. "Also, I think we were quite lucky from a timing perspective. The concept that sustainability is more than just excluding certain 'bad or dirty' companies and industry sectors from your portfolio was just starting to gain recognition around 2008 and 2009. What my team and I struggled to accomplish then – asking asset managers to integrate ESG aspects in the financial analysis and to look for opportunities rather than just avoiding risks – has become more plain vanilla today."
Anders Thorendal recalls the church's first allocation to the climate pioneer Generation Investment Management and its global equity fund, which he views as one of the best investment decisions he has been part of making. "I met David Blood and his team at Generation IM already in 2006 and we were ready to invest with them in 2008," he says. "The financial impact from Generation on the church's portfolio has been substantial and the manager's strategy of building an equity portfolio based on a sustainability approach has gained much respect among investors and asset owners. In a way, I think I was lucky not having a long investment background when I first listened to them. What they proposed made sense to me and my team. Had I been investing in equities all my career, I probably would have argued against some of the, at that time, unorthodox views." He adds: "Back then, other asset managers would tell us that you can't just exclude some 50 per cent of your equity investment universe and still get the same results as non-sustainably built portfolios. They said it was impossible and that it would be too risky."
During his time at the church, Anders Thorendal has steered its investment portfolio through the great financial crisis as well as the more recent covid-related market turbulence. He was appointed the church's chief investment officer in 2005 after spending several years in London, Brussels and Stockholm as controller and senior consultant on various international assignments in the areas of treasury management and working capital management.
Looking back at his time working with investments, he says that keeping a cool head is important. "Having experienced a couple of near meltdowns in the stock market, followed by recovery periods, we've learned how difficult it is with timing. Realising this and also seeing that the central banks and governments actually did respond fast this time, we ended up staying pretty calm in March 2020 and did not panic to reduce our equity risk more than the market had already done," he says.
Instead, the fund increased its corporate bond allocation, which Anders Thorendal says "suffered a great deal initially" when the liquidity disappeared. So far, he notes buying more corporate bonds seems to have been a good decision along with the decision not to reduce equities.
Despite increasing its corporate bond allocation last year, the fund has been slowly reducing the size of its fixed income portfolio over the past years in favour of real estate and alternative investments. With most of the fixed income replacements being allocated to real estate, more specifically Swedish rental properties, the fund has managed to steer clear of any potential large-scale damages from the pandemic. However, when it comes to other alternatives, Anders Thorendal says the investment team's experience is more mixed but that he is convinced the slight shift from fixed income to alternatives has paid off. He adds that alternative investments are also interesting from a sustainability point of view. "This is where we can find investments that in addition to healthy returns can have a direct social impact, such as microfinance," he says.
Going forward, infrastructure will also feature on the church's menu. When asked about the challenges for smaller investors within the ever more crowded infrastructure space, Anders Thorendal says getting access to good deals at reasonable management fees often requires large sums of money that smaller investors might not have readily available. He also recognises that the long-term commitments, stretching over 10 years or more, might not be possible for smaller investors.
Despite the challenges, the church is looking to make new investments into the alternative space over the next couple of years. "We still find it a good asset class to invest in as it doesn't correlate with equities. Also, the climate challenge is important for the church and we want to invest in the solutions. In this context, we see infrastructure as an interesting investment opportunity," he comments.
When asked about the biggest mistake he has been a part of making during his career, Anders Thorendal replies: "I've certainly made quite a few mistakes, including some I'm probably not even aware of. But the biggest? Or which mistake had the biggest impact? I'm not sure." He does, on the other hand, acknowledge that he perhaps should have reassessed his career path at an earlier stage. "I realised a bit late that I wasn't the most talented controller around. To exaggerate slightly, I was too stubborn for years, not understanding that I should try a slightly different path where I also could have more use of my social skills," he says.
Leaving his post after 16 years will be the start of a new journey for Anders Thorendal, who will still continue in his role as part of the investment committee at the Swedish Red Cross. He says he will miss his colleagues at the church. "Throughout the years, I've felt a strong support from the entire church organisation for what we in the team have tried to accomplish, which of course has helped in giving me the conviction to continue," he says. He adds that he will also miss his peers in the industry.
Now, Anders Thorendal is looking forward to spending more time with his family and friends along with his first grandchild. "I also want to play more tennis and pick up on reading other things than job-related stuff. And eventually, I will hopefully be able to do some travelling again with my wife," he says, adding that he still intends to stay updated on the developments at the financial industry, not least given its importance for addressing the climate change challenge.
Photo by Magnus Aronson/Ikon