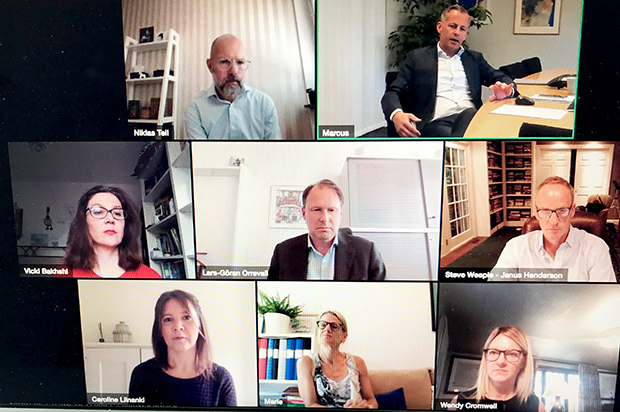 Physical risks, scenario analysis and why location matters
Before the summer, Tell Media Group, in cooperation with BMO Global Asset Management, Janus Henderson Investors and Wellington Management, invited Swedish investors to discuss climate change and asset allocation. Tell Media Group founder Niklas Tell and Nordic Fund Selection Journal editor Caroline Liinanki moderated the roundtable.
Niklas Tell 2020-09-08
As participants gathered in front of computer screens rather than face-to-face in Stockholm due to the current meeting and travel restrictions, Caroline Liinanki initiated the discussion by asking about the timing for considering the climate change impact on portfolios: is now a good time, is it a bit late or perhaps a bit too early?
LARS-GÖRAN ORREVALL: "I would say that you're late in the game if you start to look at impact from climate change today. This is, however, a long-term game and climate change will be important for portfolios for a very long time."
MARCUS SVEDBERG: "I absolutely agree but you're also asking a group of peers that are quite active in this space. I think you might get slightly different answers from a different selection of asset managers and asset owners. However, it's one thing to consider climate change impact and make the analysis but the question is how to act on it: how are you adjusting your portfolio according to whatever you come up with in your analysis? Also, asset prices tend to reprice before changes actually happen, so I think it's probably better to be too early rather than too late. I don't think we will see a nice linear change – it's probably going to be quite abrupt when it actually happens."
VICKI BAKHSHI: "One thing that we hear quite a lot regarding physical risks is that it's about the long-term and that you need to look ahead several decades. I think it's a dangerous misconception if you think that you don't need to worry about this now. We're already seeing examples of how climate change is affecting us – it's not something that will hit us in the future but it's hitting us now.
WENDY CROMWELL: "We see that 18 of the 19 warmest years on record have occurred since the year 2000, so we're clearly progressing with regard to physical climate risks. But a lot of people still say that physical climate risk are too far away to matter. More focus is therefore put on transition risks: when our policymakers are going to make different choices or when consumers are starting to make different choices. Actually, when we launched our physical climate risk research partnership with Woods Hole Research Center, one of my learnings was that regardless of change in behaviour in terms of mitigation, a lot of implications are already baked into the system when it comes to physical climate risks. Also, those physical climate risk impacts are more severe than I expected and not priced into capital markets yet."
STEVE WEEPLE: "We come at this from the perspective that it's not about timing at all and we think that it's already affecting consumer choices, government regulation and capital investment. We think yesterday was absolutely the right time to consider this but tomorrow will be too. We think this transition to a much more sustainable economy will have a myriad of investment impacts, both opportunities and risks, and you can already see the type of companies that are beneficiaries and you can see the companies that have business models and financial risks associated. We think this is part of what you now have to do as an investor."
MARIE GIERTZ: "I agree with what everyone has said so far and I don't think it's too late to consider these issues since it's a long-term game."
The roundtable discussion was published in issue 04 of Nordic Fund Selection Journal and a PDF of the complete story can be found here.
//Roundtable participants
MARIE GIERTZ: Chief investment officer of Kåpan Pensioner
LARS-GÖRAN ORREVALL: Chief investment officer of Skandia
MARCUS SVEDBERG: Investment strategist at AP4
VICKI BAKHSHI: Director responsible investment team at BMO Global Asset Management
STEVE WEEPLE: Client portfolio manager for global and EM equity strategies at Janus Henderson Investors
WENDY CROMWELL: Director of sustainable investment at Wellington Management