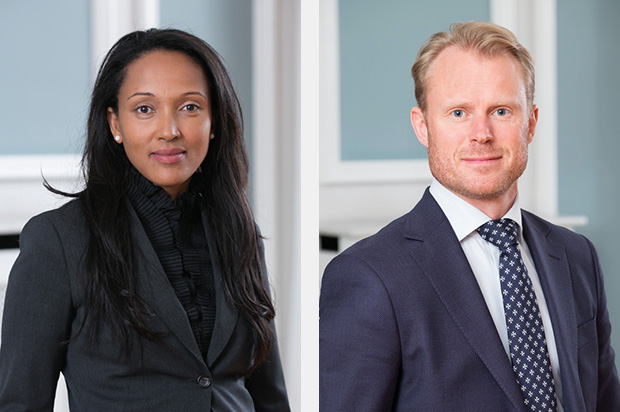 Henrik Jonsson: "This time I think it's different"
Senait Asgede and Henrik Jonsson, both based in Schroders' Stockholm office, talk about the future of the sales role, life from the home office, sustainability and private assets.
Niklas Tell 2020-05-28
At the end of last year, Schroders' CEO Peter Harrison made a landmark announcement when he declared that the EUR 591 billion asset management house would be running its global operations on a carbon-neutral basis from the beginning of this year. Part of the new business plan was less travelling. However, what the plan did not cover was the global pandemic that has rendered travel almost impossible and left the firm's teams stranded and mostly working from home.
Holding the fort in Stockholm are Henrik Jonsson, the country head for the Nordic region at Schroders and Senait Asgede, a senior client director. We are meeting up via a videolink and Henrik Jonsson opens up the conversation by stating that even though we've seen many larger events that people assumed would have a large impact on the future, this time, he says, will be different. With so many people working from home for such an extended period of time, the current way of working becomes more commonplace, he explains. "This is not just a couple of weeks. We're spending a lot of time working from home across the globe. Once you start doing it to the magnitude we are doing it now you really start to understand how you can adopt yourself and how you can be more efficient. I do think that there is a reason to believe that we will continue doing some of these things also when restrictions have been lifted."
Reduced travelling, even within the Nordic countries, will likely be part of that new future according to Henrik Jonsson. "A lot of companies have already started looking at their carbon footprint and reduced travel budgets would be in line with that. These things are happening and they will, obviously, now happen quicker. We have had the tools to facilitate digital meetings and conferences for a long time but we were used to doing business in a certain way. Now we have been forced to change and we can see that digital meetings are working," he says.
Less travelling also highlights the importance of having a local presence, says Henrik Jonsson. The company established an office in Finland last year, headed by Roope Relander, and also has people working in Copenhagen. "I still think that face-to-face meetings will be important going forward, even though these kinds of mediums are really, really helpful," he says.
When asked about the willingness among clients to meet, Senait Asgede says it depends on the meeting. "Historically we've been traveling across the globe for a single meeting and I don't think you will see that going forward. Clients wouldn't welcome that kind of a trip just to have an introduction meeting. If you have to fly, the meeting has to be critical. If it's not, I think clients would expect a conference call going forward," she says. She adds that having a video or conference call is often more successful with existing relationships. "It's much harder to create a relationship and to connect with people over the phone or a video conference. At the end of the day we are humans and we want to have the touch and feel before we can be comfortable about a person or a company," she explains. She also explains that it will likely become more difficult for companies wanting to enter the Nordic market, going forward, if traveling is being restricted.
However, the duo stress the importance of digital tools in future business interactions. "If face-to-face meetings are going to be a challenge going forward, we have to open up our box and make it available to clients as well. I'm not sure exactly how that will happen, but there's definitely a discussion going on," Senait Asgede says. One example is SustainEx, a tool developed by Schroders to measure the costs companies would face if all of their negative externalities were priced, or the boost if benefits were recognised financially. "That's our internal tool, but going forward that's the kind of tool we would like clients to have an access to. That would mean we can have a similar discussion on investments as well as the kind of expectations they have based on sustainability," Senait Asgede says. She adds that the manager is far from done when it comes to sustainability. "I do think that the current pandemic will increase the focus on climate related issues because now the whole world understands what catastrophe means and how stressful this is for everyone, regardless whether you're based in Europe or Africa," she says. There is, however, some way to go until all investors get access to, not only the risk control, but also the upside potential of sustainable investing.
"I would say it depends on whether it's a pension fund or a retail platform. Institutional investors can at least understand that you're buying companies in transition and that means you might have companies in the portfolio that may look questionable but are moving in the right direction. When it comes to the intermediary business, they don't really have the means or the tools to be able to communicate this to the end investor. It's easier to exclude, but that also means that clients are missing out the progress part of it, if you are only buying companies that are already 'green'," Senait Asgede says.
Schroders has also been active in building its reach in new asset classes through acquisitions, especially in private markets. "We have done real estate ourselves for some 50 years but over the last five to ten years we've been increasing our efforts and we have been buying companies in order to develop our skill-set in private equity and in infrastructure. One interesting acquisition is of course BlueOrchard, which is focusing on global impact investments," says Henrik Jonsson. Another recent acquisition is Blue Asset Management, a German real estate business based in Munich.
The current focus at Schroders is to make private market investments available for a broader client base, such as private banks and smaller institutions. "Previously it [the firm's offering] has only been for the larger and more sophisticated institutional investors and that is changing. We launched a semi-liquid private equity fund six months ago and that's something that we have had discussions on with the intermediary market and also with smaller institutions," Henrik Jonsson says. When asked about how it works to have a semi-liquid offering when the underlying assets are fairly illiquid, Henrik Jonsson explains that they have to be very clear in their communication. "Obviously, if you go into a crisis and everyone wants to sell off, this is not the vehicle you should have. It provides liquidity if you, under normal circumstances, want to do some changes in your allocation. You can trade on a quarterly basis, but the liquidity is capped at 5 per cent of total assets," Henrik Jonsson says.
Continuing on private markets, Senait Asgede adds that infrastructure is another area that should be of interest to investors. "We are seeing increasing demand and interest for infrastructure investments, both on equity and debt. Infrastructure debt is perhaps less used amongst Swedish investors, but we think it does have a place as an alternative or a complement to private debt, which has been in investors' focus for some time now," she says.
"Impact investing is another trend that we have seen now for some years and that is an area that we are looking into, especially with BlueOrchard onboard. We are actually hiring one person to join our Stockholm office specifically for BlueOrchard that will be responsible for the Nordic region," Henrik Jonsson reveals.
Asked about the general plans for the Nordic region and what the team has been forced to change as a result of the glabal pandemic, Henrik Jonsson says that they have had to postpone some of their events. "We usually do quite a lot of roundtables in our office and we haven't been able to do that so we are now considering doing them digitally instead. But, overall I wouldn't say that we have missed out on a lot of opportunities. Some of the things have been postponed a few months, but that's pretty much it," he explains.
Concluding the discussion, Senait Asgede says that it would be interesting to know more about how fund selectors and institutional investors are getting on in the current crisis. "I can just imagine how much e-mails they are getting already and if we will see reduced travel going forward or will there be even more? The question is whether there is another way we can communicate to make the life of the asset owner and manager selector easier," she says. She adds that if communication with clients and prospective clients becomes more digital, it will also have to become more specific. "We will have to be more to the point and all the social discussions and the 'soft part' will be reduced because clients wouldn't have time for that kind of discussion going forward," she says, and adds that it would be more efficient but would also mean that you lose some of the heart and soul of sales.
"You can have regular interactions with clients to get an update and to listen to what's going on at their end over a conference call or video," Senait Asgede says. "We will need to learn how to do it, but I think creativity might be challenged in the beginning. It's easier to have an open discussion and brainstorm when you meet face-to-face," she adds
Henrik Jonsson says that he has seen changes in peoples' working habits over the past couple of weeks. "In the first couple of weeks when everyone started working from home it was virtually impossible to get a client on the phone. But now, I wouldn't say business as usual, but it's easier to reach out to a client to get a response. It has changed very quickly. I think it really took most people just two to three weeks to understand the situation and to get the home office up and running. It has been quite interesting to see how quickly people adapt to quite extreme situations," he says.