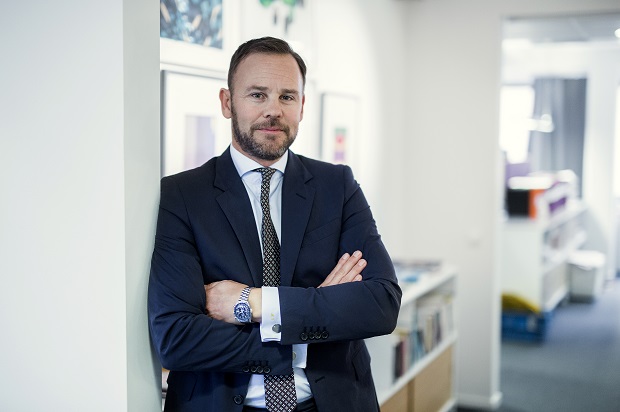 Mikael Tjäder: "We are looking at an expansion in the Nordic region"
Mikael Tjäder, CEO of Swedish Fondab, talks about the company's mission to help fund companies to reach end clients directly, how it can help advisors with fund selection, and its Nordic ambitions.
Niklas Tell 2020-06-22
Big brands such as PepsiCo and Kraft Heinz are sidestepping retailers during the corona-virus pandemic. According to a recent article in the Financial Times, the companies are taking the opportunity to launch websites in a bid to reach consumers directly rather than relying only on distributors. Swedish Fondab, a daughter company to fund platform MFEX, is on a mission to help fund companies do the same move. Fondab provides IT infrastructure, front- and back-end solutions, access to a large fund universe as well as streamlined reporting and administration on the behalf of its clients. Its story started back in 1999 when Fondmarknaden.se was launched as a platform to offer funds online to end clients. Fairly soon, however, the interest grew for the infrastructure behind it all – to build a digital platform to connect fund companies and distributors. And so MFEX was born. MFEX is the owner of Fondab, which in turn owns the Fondmarknaden.se brand.
The team at Fondab was struggling to grow the Fondmarknaden.se business. It was hit in the IT bubble in the spring of 2000 and a big re-launch of the website in 2008 happened to be in the days leading up to the Lehman crash. For Fondab, things started to move in 2015 when Mikael Tjäder joined the firm and had a discussion with Oliver Lagerström, founder and until recently CEO of MFEX, about how to move forward.
"We had a direct-to-consumer business in Fondmarknaden.se but how do you create growth in that business without a large marketing budget? We simply didn't see that as a valid strategy going forward. We had to find another way to build volume and to spread our costs on a larger asset base," says Mikael Tjäder, when we sat down for a face-to-face interview in Stockholm earlier this year.
The idea, he says, was to find partners who have a need for what Fondab could deliver in terms of infrastructure, technology and knowledge on fund transactions. "We own the technical platform but collaborate with MFEX on the agreements they have with all fund companies," Mikael Tjäder says. He adds that Fondab and MFEX were historically very close but that they are now more independent from each other. "We have even moved to a separate office," he says.
Today, Fondab has two businesses - Fondmarknaden.se as well as the b2b business where the firm works with external partners. It's the latter business that the company wants to grow. "That's where we see the greatest potential," says Mikael Tjäder. The b2b business consists of two different client groups; fund companies looking to facilitate distribution of their own funds and advisory businesses looking to distribute funds from different fund groups.
The most recent example of a fund company signing up to Fondab in order to better reach end clients is TIN Fonder. "The technical solution from Fondab makes it easy and effective for us to offer our clients a modern digital solution without investing in technology ourselves," says Tomas Lundmark, managing director at TIN Fonder.
"In the advisory segment we are currently working with Max Matthiesen, but it could also be smaller family offices. Either they will offer all 1800 funds we have on the platform, or they will select a smaller universe. Formally, we own the client, but the commercial relationship is between the end client and our partner. We are not talking to the end client," says Mikael Tjäder.
Clients in the fund company segment are currently only offering their own funds, which is different to for example Norway where fund companies are also distributing external funds.
"That's correct, but I would be surprised if we didn't see more of that also in Sweden. There are for example Carneo and Storebrand that are firms with many brands under their umbrella. They have strong individual brand names and can offer that on an internal platform, but they could also offer portfolios of the underlying funds, creating unique products not available anywhere else," says Mikael Tjäder.
Coming back to companies such as Carneo and Storebrand, which are gathering individual brands under a larger umbrella, Mikal Tjäder says that we are likely to see more of that going forward. "The barriers are growing and you need more assets under management today compared to when companies such as Didner & Gerge and Lannebo launched," he says and adds that he is surprised that a company such as Carneo wasn't established earlier.
"I think fund companies see that there is an increasing value in owning your own clients and to not only be dependent on external platforms where you can suddenly be replaced by someone else. Having your own clients is a complement and can create stability," Mikael Tjäder says. He also notes that being able to communicate directly to end clients is becoming increasingly important saying that many big local independent fund companies were launched in a period when we had a growing market for external distribution. When asked if the industry has been bad at understanding end clients because they didn't have to, Mikael Tjäder nods.
"Historically it hasn't been an end-client type of business as you could get inflows regardless. I think an increasing number of fund companies are thinking about these questions today. If the price for distribution is increasing and if I, as the owner of a product, can't communicate with the person buying the product I think you start to think about alternatives. Especially if the end clients are also continuously exposed to a different brand name and often competing products," Mikael Tjäder explains.
The question is how demanding it is for fund companies, who have focused on communicating with and selling to professional fund selectors, to build insight on individual investors.
"That is a good question. We are currently able to help fund companies with a technical and administrative platform but we are also evaluating if we could help fund companies with communication and understanding their clients," Mikael Tjäder says and adds that fund companies should do what they do well, which is managing money.
"There is no point in buying the functionality of selling to end clients if you don't do any business. It's like buying a car and not filling it up. This is our next strategic move. Fund companies, as well as advisors, sit on a lot of information and we should be able to help them use that information. Google recently became a bank in the US. I personally don't think it's because they are experts on savings accounts or mortgages. It's a way to get more information on their customers. Client data is simply important – also for us," he says.
Fondab is currently also looking into the possibility of increasing its service to advisory companies by offering more of fund selection and model portfolios. "We do this today but on a very small scale. Advisory companies should focus on what they do well, which is meeting and understanding their clients. We should be able to help them with lists of preferred funds and model portfolios," Mikael Tjäder says. The company run model portfolios on Fondmarknaden.se today but they only have one person in charge. "In addition to that one person we also have an investment committee but I absolutely see that this is an area where we could expand," he says.
As we are finishing our coffee, the conversation turns to a possible expansion. Mikael Tjäder says that while the company is fully focused on Sweden today, there is an interest in taking a more Nordic approach. "Yes, we are looking at an expansion in the Nordic region but it will have to be driven by client demand," he says and explains that they have had discussions with potential clients in Norway.
"Norway will likely be our first country outside Sweden. MFEX has good relationships there and our current dialogues are all in Norway," Mikael Tjäder says.