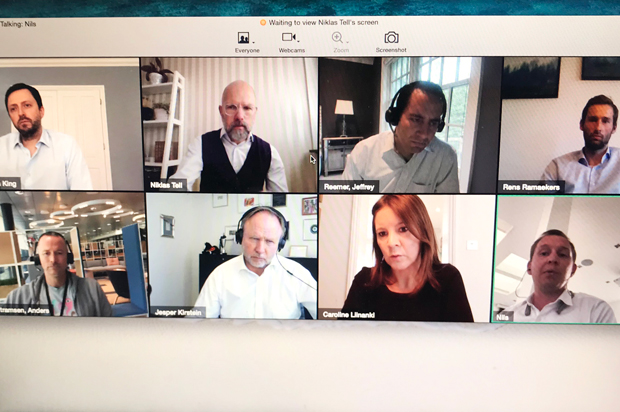 A test for managers and selectors alike
Earlier this spring, Tell Media Group, in cooperation with Aegon Asset Management, Invesco and M&G Investments, invited Danish investors to discuss alternative credits. Tell Media Group founder Niklas Tell and Nordic Fund Selection Journal editor Caroline Liinanki moderated the roundtable.
Niklas Tell 2020-06-19
With the participants gathering in front of computer screens rather than at Hotel d´Angleterre in central Copenhagen due to the current restrictions, Niklas Tell initiated the discussion by referring back to the alternative credit roundtable held almost a year ago. At that time, investors explained how they after the financial crisis in 2008 had taken on risk within the alternative credit space but over the last couple of years had started to bring down the level of risk. Niklas Tell then asked whether de-risking in general has been a trend within alternative credit and whether investors have been de-risking enough.
JESPER KIRSTEIN: "We've surveyed a lot of investors, also more recently, and my impression is that investors have not been de-risking. We've seen institutional investors moving into alternative credit over the last couple of years and if you look at large Danish investors, they will all have a private credit allocation."
RENS RAMAEKERS: "We're also seeing that more investors are moving into alternatives but they tend to diversify more. Also, adding alternatives does not mean adding risk as there's a full spectrum of different risk levels in alternative credit. I think it's fair to say that our clients were preparing for the end of the cycle scenario."
JEFFREY REEMER: "I agree with Rens. We've seen a reaching for yield on the liquid side and that's typically happening at the end of the cycle as investors become a bit complacent and are happy to take more risk as they don't see any problems. On the illiquid side of the market, there has been pressure to deploy capital over the last years. If you're in an extremely popular asset class and you're raising a significant amount of capital, investors are going to be disappointed if you're not actually deploying that capital and give them the exposure that they want."
JAMES KING: "I've been quite pleasantly surprised that the discussions that we've been having with our investor base generally is around them wanting to put more money to work. There has definitely been a sense of people being nervous about missing the opportunity rather than being more concerned about downside risk. I guess it's an open question as to whether now really is the time to be piling back."
JEFFREY REEMER: "It's interesting to listen to the tone of the market and 'risk off' is very popular now. Obviously, everything is risk off after a crisis, which I understand from liquidity reasons, but it's counter-intuitive to long-term investing."
ANDERS BERTRAMSEN: "From my side, I haven't seen de-risking or investors being conservative. Maybe on the high yield side, where people could get out and spreads were tight. You usually get a good picture of what's happening by looking at the kinds of managers that come through the city, although now it's probably more electronically. Last year, there were guys focusing on ship financing and aircraft leasing and there were probably some of the Danish pension funds that were tempted by diversifying and taking up some yield. It will be quite interesting to see how these kinds of managers have been faring with the airline industry pretty much in dire straits right now."
JESPER KIRSTEIN: "What investors are telling me right now is that they are really jumping into credit because of the spreads. Professional investors will see this as a great opportunity. What changes is what they are jumping into and what I'm hearing is that they're jumping into the most liquid and most easy credit space, which typically will be high yield. I think people are taking tactical positions right now and that would be more liquid stuff."
ANDERS BERTRAMSEN: "I completely agree. My unit experienced more than a billion euros of outflows in March but we've already recouped almost 70 per cent of that in April. Flows are very ferocious – both back and forth and there are a lot of investors taking tactical positions. I think you can't really do that on the private credit side. Many clients won't even know yet whether their portfolio companies have taken any impact. They will know that in Q2 so when the Q2 reporting has been filed in July and August, they will be hoping that they've invested with some prudent underwriters. I think it would be very risky to add to existing managers when you haven't even managed to get a firsthand experience of how your portfolio has been impacted year to date."
NILS LODBERG: "I think what investors are looking at right now and what we're seeing most flows into is high yield and I think that makes sense. People are also starting to look at this crisis from a mathematical point of view and are looking at the probability of defaults. How bad can this crisis be? Right now, I think there's definitely more value in credit than there is in the equity market. There's definitely going to be a time where there's an opportunity to invest in private credit but right now, it's probably better to be in the liquid space."
The roundtable discussion is published in issue 03 of Nordic Fund Selection Journal and a PDF of the complete story can be found here.
//Roundtable participants
ANDERS BERTRAMSEN: Head of external products at Nordea Asset Management
NILS LODBERG: Chief portfolio manager at Bankinvest
JESPER KIRSTEIN: CEO of Kirstein Agg. Holding
JAMES KING: Director of fixed income at M&G
RENS RAMAEKERS: Portfolio manager in the European ABS & mortgages team at Aegon Asset Management
JEFFREY REEMER: Head of private credit business strategy & development at Invesco