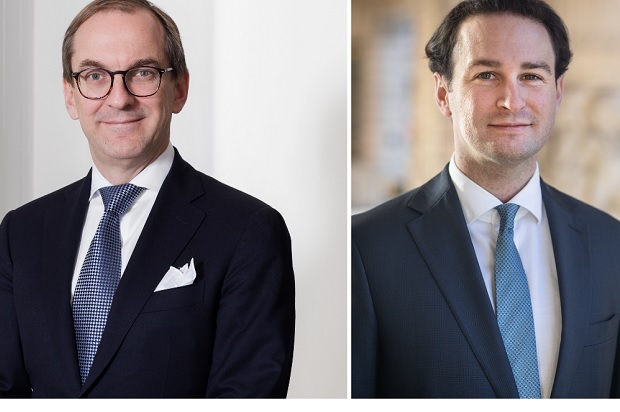 Patrik Tigerschiöld: "It's a rookie mistake to not focus on having a professional board of directors"
Atle Investment Management, owned by listed investment company Bure, has over the last couple of years been acquiring significant minority stakes in a number of asset managers. We set up an interview with Patrik Tigerschiöld, chairman of Bure and Atle, and Gustav Ohlsson, CEO of Atle, to learn more about their plans.
Niklas Tell 2020-07-22
"I have always dreamed about adding a financial leg to Bure," Patrik Tigerschiöld says as we start the interview over video link. He is no stranger to the asset management industry, having worked for a number of years at SEB Fonder.
Before moving into the story of Atle Investment Management, it is worth taking a step back. Patrik Tigerschiöld was the managing director at investment company Skanditek between 1999 and 2010 and continued as one at Bure when it merged with Skanditek in 2010. He is now the chairman of Bure as well as of Atle Investment Management. Even though neither Skanditek, nor Bure at the time, focused on the asset management industry, both had holdings in the sector. Skanditek owned a significant share in H. Lundén Holding, which managed the Eikos hedge fund, and Bure was part of the acquisition of Carnegie together with Altor in February 2009. Patrik Tigerschiöld explains that an important reason behind the Carnegie acquisition was that he was very impressed by Carnegie Asset Management in Denmark.
"There are some underlying trends that are important and interesting. When I was at SEB in the 90s, we had had discussions about which type of products would attract assets long-term. A significant number of [retail] clients bought a savings product but were they really interested in active management? For many investors there are a lot of other things that are more important than outperforming an index. It could be the ability to save smaller amounts etc. We have already seen this trend in the US and for a large group of clients the best solution is probably to have cheap access to the stock market beta," Patrik Tigerschiöld says. He continues to explain that there is another, smaller group that does want true active management.
"We see an opportunity in this market when it comes to actively managed products and we want to create a home for people who are working with that type of risk taking because individuals who are good at taking risk are not always good at administration, compliance and business development," he says.
When asked about when the move to structure this area of the portfolio and create Atle came about Patrik Tigerschiöld points to the current managing director Gustav Ohlsson. "That was when we hired Gustav," he says. "Gustav first joined us as a consultant, as we were unsure about the structure of this business, but now he is the managing director and we have also appointed an external board of directors for Atle Investment Management."
Gustav Ohlsson joins the conversation by pointing out that the plan to structure the business was started in early 2018 and the first deals were done in the summer the same year after the acquisition of Alcur. In early 2019, the business was renamed Atle and it currently owns stakes in three asset managers: Alcur Fonder (32,5 per cent), TIN Fonder (37,4 per cent) and Fondita (20,1 per cent).
Talking about prerequisites they have for future acquisitions and how large stakes they want to hold in individual companies, Gustav Ohlsson says that the general rule for them is to own between 30 and 50 per cent. "It should be large enough to make a difference for us but we want the people running the firms to be majority owners. They should still be entrepreneurs," he says. He adds that the potential deal-flow is a combination of a long-list of managers they have identified, but that there are also companies knocking on their door.
"When it comes to ownership, we work through the board of directors. In small companies the board is very important. It's a sounding board and it's where you can discuss broadly about the business. In an asset manager, a lot of time and focus is on the management of the funds and on regulatory questions. Often a lot of other questions don't get airtime. I think there is a strength in having a well-functioning board. It's a rookie mistake to not focus on having a professional board of directors," Patrik Tigerschiöld says.
Gustav Ohlsson adds that the board of directors and a focus on business development is central to what they contribute to the firms where they are owners. "Different companies of course have different needs. TIN Fonder was a startup whereas Alcur had been running for 13 years when we came in as owners," Gustav Ohlsson says.
Human Resources and distribution are other areas where Atle can help. "HR is especially important in smaller firms where each individual is a large part of the total. When it comes to distribution there are differences between the firms where we are owners," Gustav Ohlsson says and explains that Fondita is focusing on institutional investors in Finland, TIN Fonder on retail clients in Sweden and Alcur on high net worth individuals and smaller institutions. "We have recently recruited a salesperson and will add one more soon," Gustav Ohlsson says.
When asked about how digital the industry is when it comes to communication, distribution and client relations, Gustav Ohlsson says it varies between firms. "TIN Fonder is at the forefront of that but they are new and very focused on technology. With their focus on broad retail distribution they must be very digital. Tools are however widely accessible and not that expensive. When it comes to internal processes, a lot is digital but the challenge is having different systems talk to each other. Fund companies will need to see themselves more as IT companies going forward," Gustav Ohlsson says.
He adds that investment processes are increasingly digital with all available data. "Historically, the challenge was to find data but now the challenge is to manage that data. TIN Fonder has two programmers who are responsible for the collection and data analysis to support the investment process," he says.
Asked what we can expect from Atle going forward Gustav Ohlsson says that they want the group to grow with more managers. "If we can find one or two teams or companies per year that would be great," he says, and explains that there hasn't been any new investments so far this year but that they hope to reveal something this fall. "We have worked a lot with existing companies so far this year," he says and adds that it is more likely that they invest in an existing firm than set up a new firm for an existing team. "We want to grow small companies into larger companies," he says.