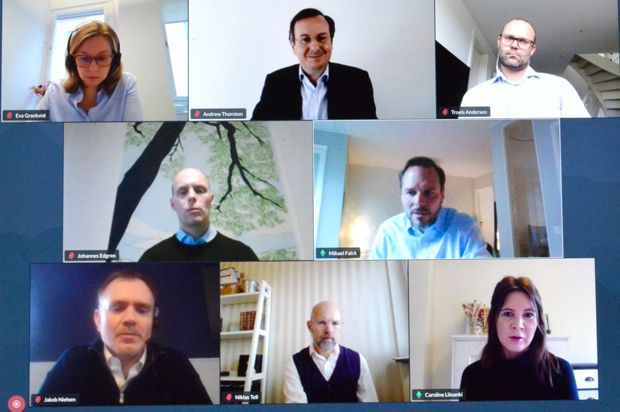 Valuation challenges and opportunities ahead
Earlier this fall, Tell Media Group, in cooperation with Aberdeen Standard Investments, Principal Global Investors and Schroders, invited Nordic investors to discuss real estate. Tell Media Group founder Niklas Tell and Nordic Fund Selection Journal editor Caroline Liinanki moderated the roundtable.
Niklas Tell 2020-12-21
The discussion started with Caroline Liinanki asking the pension fund participants about some of the main surprises over the past six months, both when it comes to their real estate portfolios and for real estate in general.
JAKOB KÆR NIELSEN: "Overall, I've been positively surprised to see that the economy has done fairly well. Despite the lockdown, the economy was in many instances actually highly functioning. That's, of course, an outcome of the central banks and the governments around the world having supported the economy. When it comes to real estate, valuations haven't come down as you've seen in prior crises. For instance, home occupancy pricing has increased a fair amount over the past nine months, which may be an outcome of people working from home. Among the bad surprises, shopping centres have, of course, taken a hit and also hotels. I really didn't see that coming – that the whole hotel sector will struggle for a number of years going forward."
JOHANNES EDGREN: "I think there has been some good and some bad but in general, I've been positively surprised by the rent collection rates. Even though there has been a delay in some of the rents, the actual collection rate has been quite good if you waited a few months. And there hasn't been that many tenant defaults or tenants leaving. When looking at our residential or logistics funds, the rent collection rate has been the same as before, so I think the income side has been surprisingly positive. The hotel sector was, of course, a bit surprising and I didn't see that coming either. Not that there would be an almost total close down of the entire sector. There's also the long time period before the sector will recover. That has been one of the negative surprises."
MIKAEL FALCK: "I would agree to a large extent. I'm probably a bit surprised by what now seems to be a really prolonged recovery period for hotels. But I'm also positively surprised that some of the trends that we've seen in the industry have been strengthened by Covid. Retail is obviously hard hit but we've seen that, as a niche sector, outer town retail boxparks have held up very strongly. And that's, of course, an effect of people working more from home and being able to focus more on their homes and renovating their terraces and so on. Another specific sector would be offices in second and third tier cities in the US. We've seen a clear trend of people moving out from the tier one cities, such as New York, San Francisco and Los Angeles, to the second-tier cities. And that, it seems, has only been strengthened by Covid. There's obviously a big question mark on how things are going to turn out with offices but within this specific sub-sector, it has been really good."
EVA GRANLUND: "I agree with the picture that's been painted about rent collection. We're positively surprised as well and have very high rent collection numbers. Initially, we experienced a limited number of tenants that withheld rent despite showing no or little signs of having difficulties and that is, of course, disappointing. However, it was just a few cases and that has changed. Otherwise, we've been very positively surprised by the good dialogues between tenants and landlords and by the great co-operation. In addition, the governmental support to companies has for sure helped maintaining stability. There hasn't actually been any chaos, which you might have expected going into something
like this."
ANDREW THORNTON: "Within Principle, there are 18 000 people worldwide and nobody would have believed at the beginning of the year that getting all of those people to work from home within about three days was a scenario you had to paint. But the ability of people to work from home effectively has been astonishing. I would put that in both the good and the bad camp, because as investors in offices, we want people to like their office environment. Certainly, as we went through the initial phase, we were worried about what this meant for offices. However, I think people are starting to get tired of working from home and are totally appreciating the days they've had back in the offices. But I do think there will be a more balanced outcome. Trying to get the same 18 000 people back into the office has been way harder than getting them to work from home initially."
TROELS ANDERSEN: "In terms of negative surprises due to Covid, I would say the whole uncertainty and the speed of the impact. I don't think anyone could have foreseen how the world would change this fast, basically within what felt like three days. But it definitely hasn't all been negative. It's a good time for being a long-term investor with capital to invest and we've seen a very interesting deal flow because of transactions falling apart."
The roundtable discussion was published in issue 06 of Nordic Fund Selection Journal and a PDF of the complete story can be found here.
//Roundtable participants
• JOHANNES EDGREN, Senior portfolio manager, VER
• JAKOB KÆR NIELSEN, Chief portfolio manager, Danica Pension
• MIKAEL FALCK, Head of alternative investments, Kåpan Pensioner
• TROELS ANDERSEN, Fund manager, Aberdeen Standard Investments
• ANDREW THORNTON, Chief executive of Principal Real Estate Europe, Principal Global Investors
• EVA GRANLUND, Head of Nordic real estate investment, Schroders