Looking back at our events in 2020
Jennie Nyström, event manager at Tell Media Group, looks back at this special year and the re-organisation of the company's events around the pandemic.
Jennie Nyström 2020-12-17
I think we can all agree that this year has been an unprecedented one for businesses in many ways. Especially on the event side. The restrictions and lockdowns have challenged us to continue hosting interesting and relevant events where people working in the Nordic asset management industry can meet and exchange ideas. Being a small team, Tell Media Group has always focused on the quality of its events and that was also something we put on the top of our list when we transformed our events into digital format this year.
Helsinki March 12 - Emerging Market Equities
Mid-March before the effects of the pandemic took full scale effect in Europe, we held our first roundtable at Helsinki's Kämp Hotel, followed by our popular networking event, Fondbar, around the corner at the chic Hotel St George. However, a few weeks before our Helsinki events things had started escalating on the pandemic front. With the increased restrictions around travel we decided to offer an opportunity to some of the non-local participants to join in digitally instead. This was the first time we had done so and were all intrigued to see how it would affect the flow of the roundtable discussion. It was also a learning experience for our moderators Niklas Tell and Janina Sibelius of whom neither had moderated a panel discussion with remote participants before. Despite little anxiousness beforehand, mainly about how well the technology would work, the discussion ran smoothly and there were no hiccups with the props we used.
Little did we know at the time that the digital form would soon be the new normal for running events in 2020.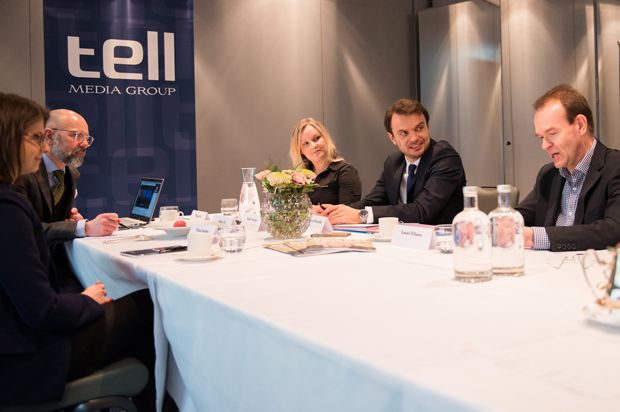 Finnish investors Lauri Tillman, head of equities at OP Financial Group, and Tiina Landau, sustainability expert and ESG analyst, participating in the Helsinki roundtable discussion with Krzysztof Musialik from Franklin Templeton and our moderators Janina Sibelius and Niklas Tell. Invesco's Nikki Noriega and State Street's Akbar Ali joined in remotely.
We also hosted our networking event Fondbar on March 12 in Helsinki and despite increased restrictions we had a good gathering of people from the industry. It was a pleasant evening with many interesting and lively conversations. This turned out to be the only Fondbar we were able to host this year. But we are hoping to host many more again in 2021.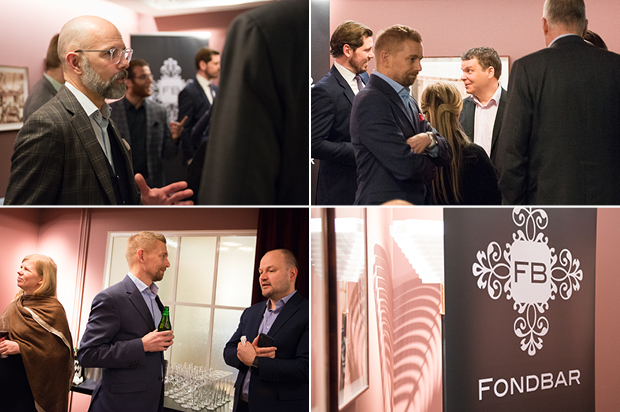 Copenhagen April 23 – Alternative Credit
Our next roundtable was scheduled in Copenhagen at the end of April. With the uncertainty around travel and lockdowns it was decided that, for the first time, we'll host the roundtable as a fully digital event. Many of us had already familiarized ourselves with video calls and online events, which helped the roundtable discussion on alternative credit go smoothly.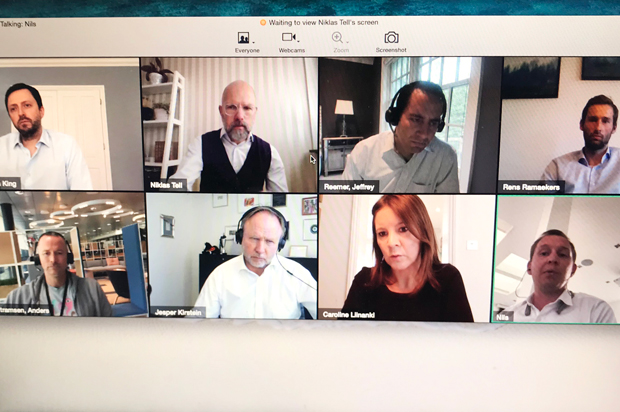 Our first fully digital roundtable discussion with Danish investors Anders Bertramsen, head of external products at Nordea Asset Management, Nils Lodberg, chief portfolio manager at Bankinvest and Jesper Kirstein CEO of Kirstein Agg. Holding. Other participants included James King from M&G Investments, Rens Ramaekers from Aegon Asset Management and Invesco´s Jeffrey Reemer.
We soon learnt that one of the challenges with digital events and discussions was that reading people's body language was not as easy as in live events. This was echoed by many people in the industry and led to internal discussions about creating some ground rules for the roundtables, so that everyone would get a chance to speak without unnecessary awkwardness or interruptions. Our editorial team came up with guidelines that we have now integrated to all our digital discussions to keep the conversations running smoothly and our events lively, interesting and engaging.
On the technology side of things, we were lucky to find a digital platform that works well for our events. In our previous live-events we were used to having a full control of the technology, which made the transition to being dependent on technology not fully controlled by us a daunting undertaking. Nevertheless, it has gone smoothly and there have not been any problems running our events digitally.
Stockholm, June 11 – Climate Change and Asset Allocation
By the time we reached summer, the digital format had become the new norm. People were used to using it professionally and having meetings through Teams, Zoom or the GoToMeeting platform that we use, which made our climate change and asset allocation roundtable in June a pleasure to follow.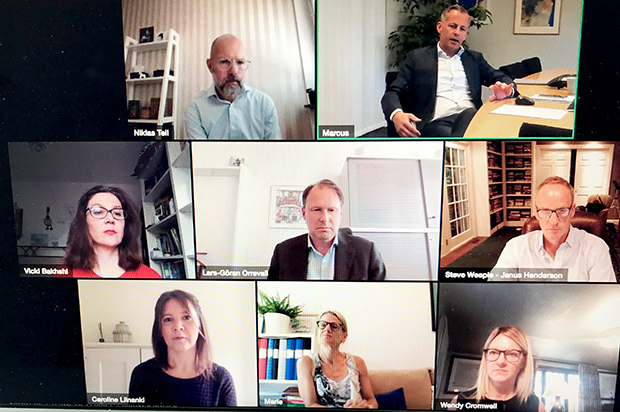 Swedish investors Marie Giertz, chief investment officer at Kåpan Pensioner, Lars-Göran Orrevall, chief investment officer at Skandia and Marcus Svedberg, investment strategist at AP4 joined the June roundtable discussion on climate change and asset allocation moderated by Caroline Liinanki and Niklas Tell. The roundtable was hosted in cooperation with BMO Global Asset Management, Janus Henderson Investors and Wellington Management.
Digital roundtable August 27 – Distressed Debt
With the successful spring and summer of hosting digital events, we decided to add one on popular demand about an asset class that had been the talk of the town over the past few months. The distressed debt roundtable was carried out in cooperation with Oaktree Capital Management and with participation from Christer Franzén, chief investment officer at Ericsson pension fund in Sweden and Jimmy Lundby, chief portfolio manager at Pensam in Denmark.
This was also the first time our editorial team decided to take advantage the opportunity to invite investors and industry experts to join our discussions from all of the Nordic countries instead of concentrating on just one.
Oslo September 10 - Impact Investing
At the beginning of the summer we had hoped that by the time of our September roundtable in Oslo we would be able to travel and host the event live. Unfortunately, things had not improved on the pandemic front and we ended up deciding to host the roundtable in digital format. We had a very good and interesting discussion on impact investing with Norwegian investors Marte Løfman, head of impact investing at Grieg Investor, Heidi Finskas, vice president for corporate responsibility at KLP, Georg Skare Lund, head of fund selection at Storebrand Asset Management and Isabelle Juillard Thompsen, portfolio manager at Gjensidigestiftelsen.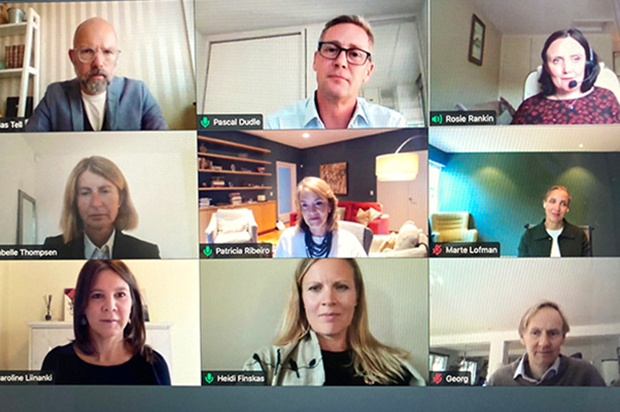 Despite hopes of the pandemic subsiding and us being able to organize our Oslo roundtable live in September we ended up using the digital format which by now had become the new normal. The impact roundtable was hosted in cooperation with American Century Investments, Baillie Gifford and Vontobel Asset Management.
Nordic Fund Selection Forum September 25
In the spring we had decided to postpone organising one of our bigger and most popular events, the Nordic Fund Selection Forum, until later in the autumn. By September, the situation in Sweden had improved to a point where we were able to organise the Forum in a socially distanced format at one of our favourite venues in Stockholm, Operakällaren. The new digital dimension enabled us to bring Nordic fund selectors together with fund managers across Europe despite travel restrictions and we could also offer the people in the industry a chance to meet face to face with their peers – something I think we have all missed during these months of lockdowns and restrictions on movement.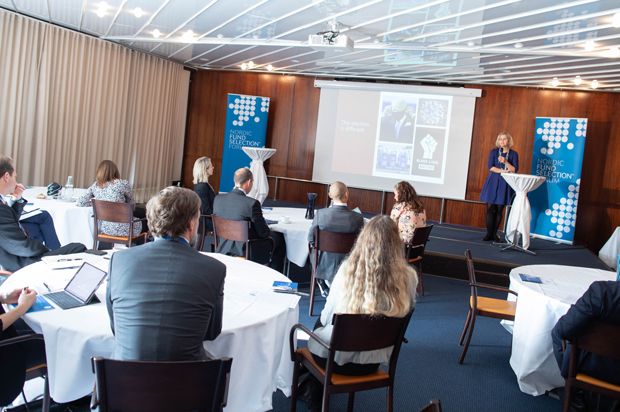 This year's Fund Selection Forum gathered fund selectors and fund managers together in a combined live/digital format.
Copenhagen October 22 – Real Estate
To our real estate roundtable, which was originally planned to be hosted in Copenhagen at another one of our favourite venues in the Nordics, Hotel d´Angleterre, we gathered investors from all over the region. Joining us were Johannes Edgren, senior portfolio manager from Finland's state pension fund VER, Jakob Kær Nielsen, chief portfolio manager at Danica Pension in Denmark and Mikael Falck, head of alternative investments at Kåpan Pensioner in Sweden. The diversity of investors brought a new dimension to the interesting discussion around the asset class that has not yet really seen the effects of the pandemic on a wider-scale.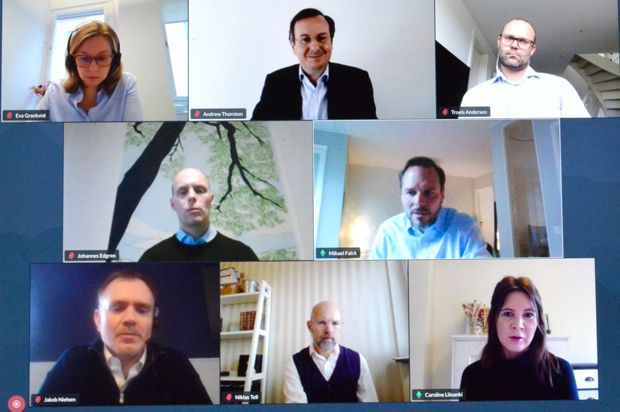 Our real estate roundtable was hosted in cooperation with Aberdeen Standard Investment, Principal Global Investors and Schroders.
Nordic Fund Selection Awards 2020
Our 11th annual Nordic Fund Selection Awards that we usually host in the magnificent Spegelsalen at Grand Hôtel in Stockholm, went digital this year with fund managers and Nordic investors discussing emerging market equities and manager selection in difficult times. The work to organise the winners of the awards had started already at the end of the summer as our editorial team gathered feedback from asset managers active in the Nordic region. You can read more about the winners in the Awards supplement, which will be out with the next issue of the Nordic Fund Selection Journal later this month.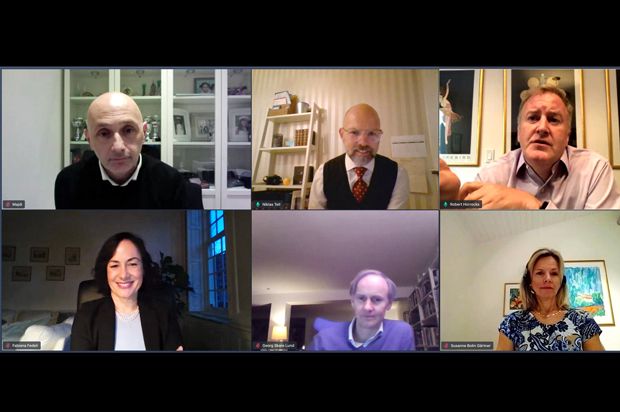 We gathered this year's winners Susanne Bolin Gärtner, head of manager & fund selection at Danske Bank, Majdi Chammas, external partnerships and innovation at AP1 and Georg Skare Lund, head of manager selection at Storebrand Asset Management to our awards roundtable that was hosted in cooperation with Robeco and Matthews Asia.
ETF - Roundtable
Our ETF roundtable was postponed in May and instead we met with participating fund companies in December. We had a very interesting discussion on the bigger trends in the market where fixed income ETFs and ESG took centre stage. A brief summary of this discussion will be published on FBNW and a full transcript will be out with the ETF-supplement, which will be distributed with the first issue of the Nordic Fund Selection Journal next year.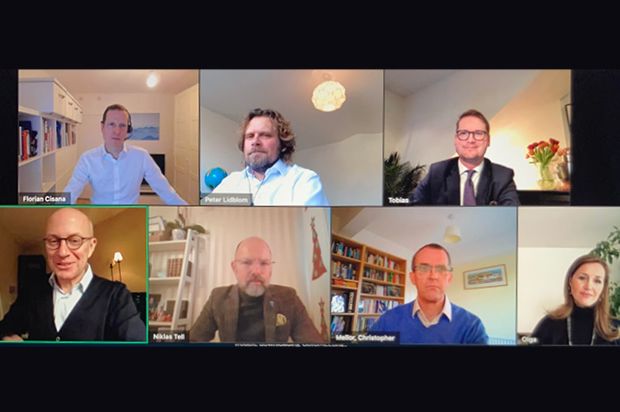 Our ETF roundtable was joined by Christopher Mellor, head of EMEA ETF equity & commodity product management at Invesco; Tobias Nilsson, head of ETF distribution at J.P. Morgan; Florian Cisana, head UBS passive & ETF specialist sales strategic markets; Olga de Tapia, global head of ETFs sales at HSBC; Peter Lidblom, director and head of passive sales in the Nordics at DWS; and Antoine Lesné, head of ETF strategy and research for EMEA at State Street SPDR ETFs.
Helsinki December 10 – Hedge Funds
To wrap up the year we moved back to where it all started, only this time in digital format. Our Helsinki roundtable also had some Swedish colour as Mikael Haglund, head of manager research at SEB Large Corporates & Financial Institutions, joined Teemu Ahonen, head of absolute return at Ilmarinen and Jarkko Matilainen, former head of hedge funds at Varma and currently a founder and director of a hedge fund governance firm NorthPeak, to discuss hedge fund investing. The roundtable was hosted in cooperation with Aberdeen Standard Investments and AXA-IM Chorus.
Our year of events came to a full circle when our moderators Janina Sibelius and Niklas Tell returned to Helsinki to talk with our panel of hedge fund experts. However, this time there were no uncertainty about the format. The event was fully digital.
Overall, it has been a very different year, to say the least, forcing us all to rethink the way we travel and organize events. A transition to digital has, however, gone surprisingly smoothly. Despite initial fears to contrary, this development has turned out to be a positive one and I'm certain that it is here to stay long after the travel restrictions have been lifted.
That is not to say that we haven't missed meeting and interacting with people face to face and are grateful to all our partners for keeping in touch. Despite the social distancing we feel it has been a busy year just in a different, social distanced way, and we are very much looking forward to meeting fund companies and Nordic investors in person again in 2021!
We would also like to thank all our partners that have worked with us this year:
Aberdeen Standard Investments
Aegon Asset Management
American Century Investments
Artemis
Aviva Investors
AXA Investment Managers
Baillie Gifford
BMO Global Asset Management
Carneo Asset Managers
Columbia Threadneedle Investments
DWS
Franklin Templeton
HSBC Global Asset Management
Invesco
J.P. Morgan Asset Management
Janus Henderson Investors
Jupiter Asset Management
M&G Investments
Matthews Asia
Oaktree Capital Management
Principal Global Investors
Robeco
Schroders
State Street Global Advisors
UBS Asset Management
Vontobel Asset Management
Wellington Management
We at Tell Media Group wish you all a Merry Christmas and a Happy New Year!