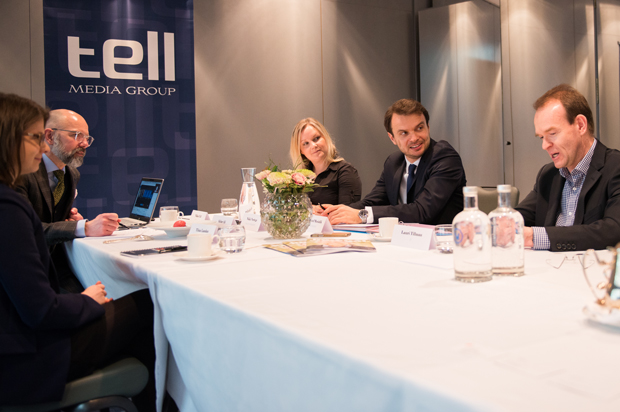 Opportunities and ESG risks in uncertain times
In mid-March, Tell Media Group, in cooperation with Invesco, Franklin Templeton and State Street Global Advisors, invited Finnish investors to discuss emerging market equities. Tell Media Group founder Niklas Tell and FBNW editor Janina Sibelius moderated the roundtable.
Niklas Tell 2020-04-29
The roundtable discussion on emerging market equities in Helsinki on March 12 took place just before the world started closing down and put a temporary halt to most face-to-face meetings. While things are evolving rapidly, this summary reflects the discussion from mid-March with the insights everyone had at the time. Invesco's Nikki Noriega and State Street's Akbar Ali were unable to come to Helsinki and participated in the discussion via conference call.
The discussion kicked off with Niklas Tell asking the participants if markets had sold off in such a way that they are starting to see good stocks being priced attractively.
AKBAR ALI: "I think the markets have under-reacted or over-reacted thus far. Information is stale or inadequate. For example, analysts' revisions have been limited and very few companies have updated their guidance. We systematically identify the stocks whose prices have moved out of
line with fundamentals. In many cases, the misalignment is severe and comparable to what we witnessed during the global financial crisis. We've rebalanced some names with careful attention to turnover costs."
KRZYSZTOF MUSIALIK: "We don't define 'value' as low price-to earnings or low price-to book ratios. We look for companies with sustainable earnings power that trade at a discount to intrinsic worth. We look further down the road and the sustainability of earnings can come from brand, technology or great management and yes, we do find these companies today. For example, we find a lot of value in consumer stocks and if you look at our portfolio, you will find consumption as a well-represented theme."
LAURI TILLMAN: "I think it was a bit indiscriminate selling when it all started, especially if you look across both developed and emerging markets. More recently, I think that has changed and it's more company or sector-specific today. Somebody said that the most difficult time to invest is 'now' and it doesn't matter when 'now' is. If I had to invest today, I would go for solid business models with good cash-flow generation."
NIKLAS TELL: "Because this too will pass?"
LAURI TILLMAN: "That's what I think and hope but who knows? Usually the time to buy is when you think the world is ending and you feel miserable. It's bad right now but maybe not that bad."
KRZYSZTOF MUSIALIK: "The strong will get stronger. That's a trend that had already started before this current crisis and it's continuing to happen in the economy and in society. We're also seeing polarisation in the markets and it makes sense to stick with the winners, market leaders or leaders in niche areas, provided they have this sustainable edge."
NIKKI NORIEGA: "I think whether it feels indiscriminate or not depends on your approach and your time horizon. Similar to Franklin Templeton, we look for companies that have some sort of structural growth opportunity beyond the business cycle. Our time horizon is three to five years and preferably longer. If you look at companies that have sold off right now – yes, from a cyclical perspective earnings will get hammered but from a longer-term perspective it's different. If you're a hotel company with a really great balance sheet in a place like China, you will have opportunities right now. This is a fairly unconsolidated market and there will be a lot of family-owned hotels that will not survive the downturn and a hotel chain will be able to go in and create a lot of value. Yes, earnings will get hit but they will come out stronger and we would rather keep our eye on the longer-term value than on the short-term price."
The roundtable discussion is published in issue 02 of Nordic Fund Selection Journal and a PDF of the story can be found here.
// Roundtable participants
LAURI TILLMAN, Head of equities at OP Financial Group
TIINA LANDAU, Sustainability expert & ESG analyst
NIKKI NORIEGA, Senior client portfolio manager at Invesco Asset Management
AKBAR ALI, Investment strategist at State Street Global Advisors
KRZYSZTOF MUSIALIK, Portfolio manager at Franklin Templeton