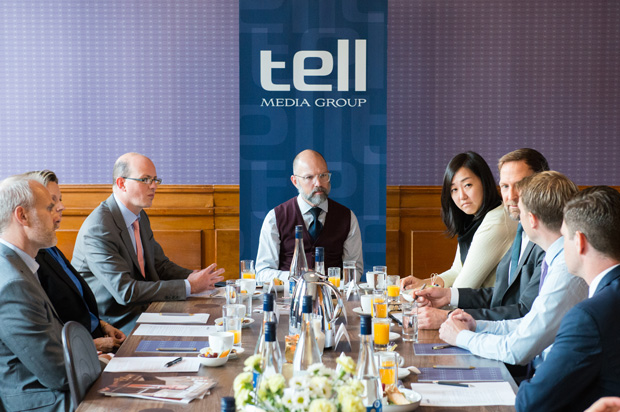 Navigating short-term risks of trade disputes and geopolitics
In mid-June, Tell Media Group, in cooperation with Aberdeen Standard Investments, Baillie Gifford and Robeco, invited Swedish selectors to discuss Asian equities.
Niklas Tell 2019-09-09
To kick off the roundtable discussion, which was held at Nobis Hotel in central Stockholm in June, Niklas Tell started by asking the fund managers around the table to explain how they view Asian equities at the moment.
Ewan Markson-Brown, an investment manager in the emerging markets equity team at Baillie Gifford, captured the general view on the region saying that it provides "a wonderful long-term picture but with short-term noise because of trade tensions and the strong US dollar". He added: "Valuations are cheap today but does that mean they will recover in 12 months? I have no idea. Does it mean that they will look good in 5 years? We think so."
Hauke Ris, head of client portfolio management for Robeco fundamental equity and client portfolio manager for Asia-Pacific equities, shared a similar view. "We tend to be bullish on the region – also for the long-term reasons that Ewan pointed out – but currently we focus a lot on earnings growth and earnings revisions, which has been flat for Asia." He added: "In terms of timing, we would need to see the earnings picture improve for us to be more bullish and to say that this is a particularly good time to increase allocations."
Yoojeong Oh, investment director on the Asian equities team at Aberdeen Standard Investments, said: "Despite the macro noise, what puts Asia in a different position to the rest of the world is that while there hasn't been anywhere for new capital to go, companies in the region have been paying down debt and they have been building their balance sheets. They've been preparing themselves for the time when they can start reinvesting again once the political situations calm down. Cash on balance sheets in Asia are much higher compared to history and also compared to other regions. That's important as it gives companies room to manoeuvre. We very much agree on the long-term growth story that was mentioned earlier but we're also happy for companies to hold on to cash in the current situation."
// Roundtable participants
Susanne Bolin Gärtner, head of fund selection & ESG for external funds, Folksam
Anders Landström, head of manager research, Länsförsäkringar
Henrik Andersen, senior fund analyst, large corporates & financial institutions, SEB
Andreas Söderström, senior fund analyst, Movestic
Yoojeong Oh, investment director in the Asian equities team, Aberdeen Standard Investments
Ewan Markson-Brown, investment manager in the emerging markets equity team, Baillie Gifford
Hauke Ris, Client portfolio manager Asia-Pacific equities, Robeco
The roundtable discussion was published in issue 04, 2019 of Nordic Fund Selection Journal and a PDF of the story can be found here.