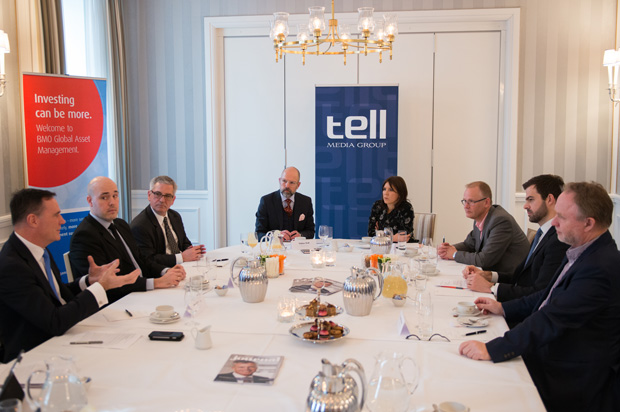 Alternative credit at a time of uncertainty
Earlier this spring, Tell Media Group, in co-operation with Aberdeen Standard Investments, BlackRock and BMO Global Asset Management, organised a discussion about investments in alternative credit with three invited Danish participants.
Niklas Tell 2019-05-09
The discussion, which was held at Hotel D'Angleterre in central Copenhagen, started with Caroline Liinanki asking the investors how their portfolios have changed over the years and what their current allocation looks like.
Jimmy Lundby, a senior portfolio manager at Pensam, said: "When we got out of the financial crisis around 2010, it was all about taking on risk. We tried to gain exposure to instruments that had the potential of delivering high returns. At that time, we saw that companies would be able to grow their top-line and would also be able to grow into their capital structures and de-lever over time. That was the strategy back then. What we're seeing right now is the opposite. We're reducing risk and we try to focus more on asset-backed securities. We're essentially trying to be a bit more robust."
His views were echoed by Bertil From, chief financial officer at The Lundbeck Foundation. "If we go back to the financial crisis, we also had risk on and in 2012 our exposure to credit topped at around 25 per cent. Today, we're at some 15 per cent. As we have an absolute return target, we've actually increased the risk profile. With falling interest rates and falling spreads, we simply need to take on more risk. What we've done is to reduce the allocation but what we have is more risky. We're only in high yield today and more into alternatives. We split credit into performing and distressed and we've had exposure to distressed debt since 2007 and it performed exceptionally well in 2008 and 2009. What I like from a portfolio perspective is that it will perform well if we're hit with a recession. The allocation today is smaller than it used to be but it will likely increase if there is a recession."
"If we look at Nordic investors, some five years ago the allocations to private credit were very much ad hoc. In the last three years, we've seen investors moving into this area in a large scale. The Finns were early but we see big moves in Denmark as well. What we see now is a systematic move into private credit where investors are carefully considering what segments they want exposure to," Jesper Kirstein, CEO at Kirstein Holding, said.
Participants
BERTIL FROM, Chief financial officer, The Lundbeck Foundation
JIMMY LUNDBY, Senior portfolio manager, Pensam
JESPER KIRSTEIN, CEO, Kirstein Holding
JAMES TURNER, Head of European leveraged finance, BlackRock
BARRY FRICKE, Global head of private credit, product strategy & solutions, Aberdeen Standard Investments
DAVID SCHMUCK, Portfolio manager, BMO Global Asset Management
The roundtable discussion was published in issue 02, 2019 of Nordic Fund Selection Journal and a PDF of the story can be found here.