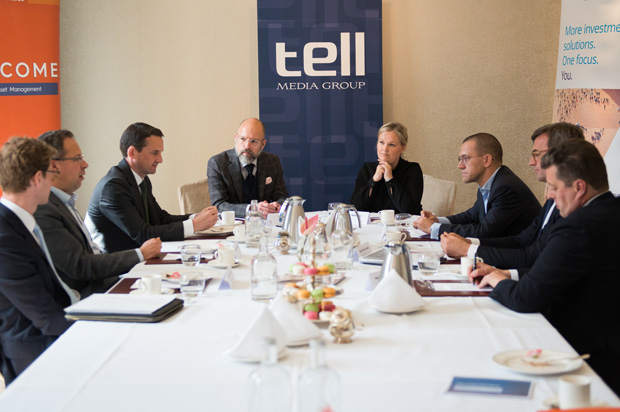 Being on the right side of disruption
In mid-May, Tell Media Group, in cooperation with Aberdeen Standard Investments, Janus Henderson and Jupiter, invited Finnish investors to discuss equity investing. Tell Media Group founder Niklas Tell and FBNW editor Janina Sibelius moderated the roundtable.
Niklas Tell 2019-07-04
To kick off the roundtable discussion, which was held at Hotel Kämp in central Helsinki on May 14, Niklas Tell observed that it was a good time to hold this discussion given recent activity in equity markets globally and asked if equities could continue to perform given that we've had good equity markets for a long time.
GEORGE CROWDY (Janus Henderson): "Broad equity markets have done very well for a decade but within that there has been a lot of dispersion. Some sectors have done significantly better than others and I consider disruption to be the word that best describes what has happened. I think it's misleading to only look at the headline numbers. There will always be interesting areas within equities where you can create performance. It will be all about being on the right side of that disruption going forward."
DALE MACLENNAN (Aberdeen Standard Investments): "I think it's worth putting Q1 2019 returns into context by remembering the substantial de-rating that happened in equity markets in Q4. If you look at last year, it was actually a fairly weak period for risky assets and right now it's very much driven by sentiment and headlines such as the US-China trade deal and Brexit. Can it continue? We're still overweight and supportive of global equity markets on the back of supportive valuation levels, growth making a modest rebound on the back of fiscal support and a more dovish stance from central banks around the world."
ROSS TEVERSON (Jupiter): "Looking at emerging markets, I would like to echo George's comment on dispersion of returns. Even if equities in general have done well, you've had pockets in emerging and frontier markets that haven't participated at all. Returns in frontier markets, for example, have been modest for several years and at the same time frontier market companies have delivered good earnings. That means that valuation multiples are low and the same is true for many small-cap companies in emerging markets. That must present a long-term opportunity for stockpickers."
Participants
• LIPPO SUOMINEN, chief investment strategist, S-Bank & FIM
• STEFAN BJÖRKMAN, CEO, Föreningen Konstsamfundet
• PATRIK MORING, strategist and portfolio manager for macro and equities, OP Financial Group
• GEORGE CROWDY, investment manager, global sustainable equity and global responsible managed strategies, Janus Henderson
• ROSS TEVERSON, head of strategy for emerging markets, Jupiter
• DALE MACLENNAN, head of equity investment specialists, Aberdeen Standard Investments
The roundtable discussion was published in issue 03, 2019 of Nordic Fund Selection Journal and a PDF of the story can be found here.