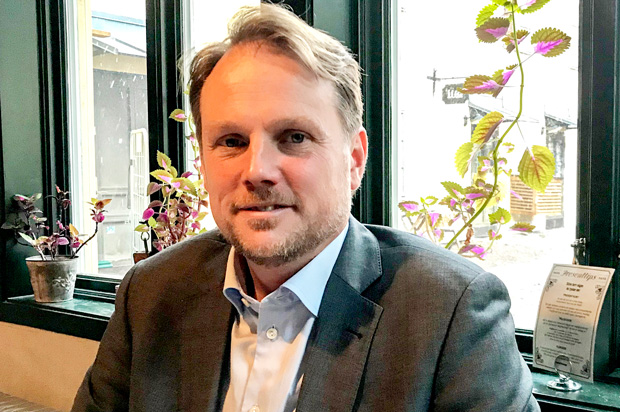 Johan Elmquist: "More competition, fewer opportunities with distributors and fee pressure is the reality today"
Head of sales and marketing at the Swedish asset manager Didner & Gerge talks about how the asset management industry has changed during the past decade.
Niklas Tell 2019-01-23
Johan Elmquist is an easy man to talk to and the discussion is at full swing even before the food arrives to the table at Hava in central Uppsala where we are having lunch. "It wasn't that T.Rowe Price didn't have any competition when it opened its office in Sweden some 15 years ago. But it was very different to the situation today," he says. Working in institutional sales at T.Rowe Price between 2004 and 2006, Johan Elmquist remembers the time when meetings with clients were easier to come by and competition wasn't as fierce as it is today.
"Today you have more companies with more resources and even the ones without local presence are more disciplined about how they cover the Nordic region," he says, describing how he recently had a meeting with a big institutional investor in Norway who told him that he turns down most requests for meetings as it has become too many to handle. The investor instead does the initial work in databases and then invites a few selected managers to meetings.
"This of course makes the job of the sales staff more challenging. If you don't already have a supplier-client relationship it is almost impossible to have regular interaction. Even if you have a big and well-known brand behind you," Johan Elmquist says
Looking back, he explains that it was fairly easy to get onto platforms such as Avanza and Nordnet. "That is not a given today," he says, explaining that the market is very different today compared to 15 years ago.
"Back then you had PPM [the Swedish premium pension system] that had just launched and you also had big distributors, such as banks and insurance companies, opening up and embracing open architecture. Today it is very different. In addition to more competition you also have trends moving in the opposite direction to what I just described. PPM is on a path to have fewer funds on its platform and distributors are also cutting down on the number of external funds they are offering."
Talking specifically about PPM, he explains that disappearing from that platform is not only about loosing assets under management. It is also about the visibility and brand value. He says PPM has made a big difference in the development of his current employer.
"Didner & Gerge could show good historical returns when PPM was launched and people were open to new fund companies beside the banks," Johan Elmquist explains. "PPM was very important to a lot of new and smaller fund companies when it launched."
Being a local, independent fund company is increasingly tough and Johan Elmquist says that the pressure is coming from all sides. "More competition, fewer opportunities with distributors and fee pressure is the reality today," he explains.
However, despite the amounting pressure, he says that he still thinks that Didner & Gerge has a fairly good position on the market. "We are big enough to have a profitable business and we are big enough to be able to take on future IT investments, higher regulatory cost and other increasing costs."
Not everyone is big enough however and consolidation is a growing trend, both in and outside the Nordic region. Johan Elmquist says that a lot is happening, not least related to the new regulations to remain on the premium pension platform. "We are also seeing consolidation among distributors and financial advisors, which means that we have fewer players to talk to and as they become bigger buyers they will also be able to put additional pressure on fees." (After our lunch it was announced that East Capital is buying both Insider Fonder and Monyx, and Cicero announced it is buying Max Matthiessens PPM funds).
When asked about Carneo, a firm on a path to consolidate the industry with holdings such as C Worldwide, Carnegie Fonder and Nordic Cross, Johan Elmquist says that he thinks others will follow its example. "I have heard things in the market that point in that direction and given the trends we have talked about I think it is natural to create the structure that Carneo is now doing and that Brummer & Partners did for hedge funds," he says and adds that a structure like the one Carneo is setting up is leading them up to becoming a counterweight to larger distributors. "It doesn't solve the problem but they obviously have a different position as they represent a number of suppliers," he says.
Digitalisation is an important trend, according to Johan Elmquist, that includes becoming more efficient internally but also becoming more efficient in how to meet the client. "We have seen a glimpse of what's to come as we are currently in the process of updating our website. It is a small project but it is still costly. Both in terms of money but also in terms of internal resources," he says. "I don't think you need to look very far into the future until you see substantially higher IT investments and in that perspective I think we are big enough."
The company has been able to market its funds in Norway and Finland for some time now, but it is still fairly unknown to the larger audiences. Johan Elmquist explains that the company doesn't work with specific annual plans but says that over a multi-year period the ambition is to have more clients outside Sweden and also more institutional clients. "We work across three or four dimensions. We want to develop our institutional business, we want to develop our own retail client base in Sweden and in the rest of the Nordic region and we look opportunistically for clients or partners outside the Nordic region."
The company is however not in the process of setting up its funds in Luxembourg or Dublin in a bid to attract international investors. "No, but we are looking at offering the funds in different currencies," he says, acknowledging that it will be more difficult to market a Swedish domiciled fund to international investors compared to having funds registered in Luxembourg or Dublin. "Our argument is that our Swedish set-up is cost efficient and setting up a separate structure would send the wrong message," he says.