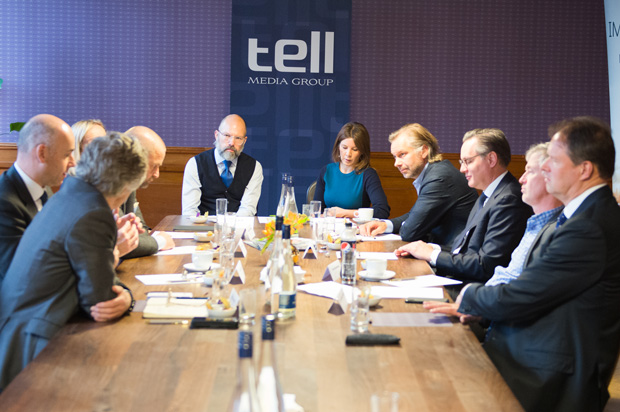 Recessions, safe havens and illiquidity risk
Earlier this fall, Tell Media Group, in co-operation with JP Morgan Asset Management, Lombard Odier Investment Managers and M&G, invited a group of Nordic asset owners to discuss the current market and the impact on asset allocation. Tell Media Group founder Niklas Tell and Caroline Liinanki, editor of Nordic Fund Selection Journal, moderated the roundtable.
Niklas Tell 2019-12-19
To kick of the discussion, which was held at Nobis Hotel in central Stockholm, Caroline Liinanki observed that it wasn't that long ago since investors were preparing for rising interest rates and asked the investors at the table whether the expectations now had changed to rates remaining low for the foreseeable future.
MIKAEL ANGBERG (chief investment officer of AP1): Our belief is that low interest rates will be around for a long time, which also means that expected returns from assets will be impacted negatively. So we're expecting lower returns in the future than experienced over the last 10 years. Then, what we've experienced market-wise is a lot of interest rate volatility, which opens up opportunities to make money from interest rate exposures. So low interest rates have a dampening effect on asset returns but that doesn't mean that you can't make money from interest rate volatility.
REIMA RYTSÖLÄ (chief investment officer and deputy CEO of Varma): We also think the low interest rate environment will remain, at least for some time. Over the next five years, we don't see that much of a difference. And if we do have rising interest rates, that would be a positive surprise from our perspective, even though the bond portfolio would be hit temporarily. And perhaps other asset classes as well.
NILS HENRIKSSON (CEO of Gamla Livförsäkringsaktiebolaget SEB Trygg Liv): It would be sort of nice if at least someone said that rates would explode upwards but I don't see that coming and I would concur that rates will stay low for a long time. It's anyone's guess what's beyond five years but it seems likely, if it hasn't already happened, that central banks will give it one more go and expand balance sheets. So owning fixed income investments is pretty useless but we all have balance sheet liquidity needs and you need to filter your views through your circumstances. Furthermore, if diversification ever has made sense, it would certainly be right now but I would prefer to hold no bonds if I could.
ERIK RANBERG (chief investment officer of Gjensidige Forsikring): When mentioning low rates, there are two particular things that have happened during the last six months that we should take into account. Rates staying low shouldn't be a surprise. Government bonds with a five-year duration are in negative territory, which we've actually seen for the first time. The other feature is that the US bond market has turned into a negative time premium so you're not paid for investing long at all. So there are a lot of factors telling you that you should be quite cautious about this market.
LARS-GÖRAN ORREVALL (chief investment officer of Skandia): A lot of people are talking about this scare of the Japanese scenario but Japan actually has negative inflation, so they have positive real rates. We don't have that. We have much higher inflation and much lower rates, so I would say that we've had a much more extreme monetary policy than Japan. When it comes to the interest rate environment, I think we're close to the end game but I don't think that will change until we've had a real crisis again – usually regime shifts happen after a crisis. I think yields will stay low for some time but it's very difficult to do this forecasting and I think we should all be humble because I don't think anyone of us would have expected negative rates for bonds in Sweden, for example.
The roundtable discussion was published in issue 06 of Nordic Fund Selection Journal and a PDF of the story can be found here.
// Roundtable participants
MIKAEL ANGBERG (Chief investment officer of AP1)
REIMA RYTSÖLÄ (Chief investment officer and deputy CEO of Varma)
LARS-GÖRAN ORREVALL (Chief investment officer of Skandia)
ERIK RANBERG (Chief investment officer of Gjensidige Forsikring)
NILS HENRIKSSON (CEO of Gamla Livförsäkringsaktiebolaget SEB Trygg Liv)
SORCA KELLY-SCHOLTE (Head of EMEA pensions solutions and advisory at JPMorgan Asset Management)
THÉODORE ECONOMOU (Chief investment officer for multi-assets at Lombard Odier Investment Managers)
RICHARD RYAN (Lead portfolio manager for multi-asset credit at M&G)