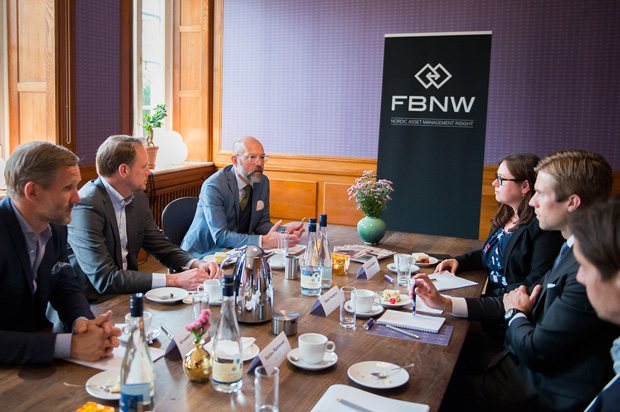 How to attract investor interest globally
Before the summer, Tell Media Group, in cooperation with RBC Investor & Treasury Services, gathered representatives from four different Swedish asset managers to discuss international distribution.
Niklas Tell 2019-08-06
The fund companies represented in the discussion, hosted at Hotel Nobis in central Stockholm, are on very different stages of international expansion. Some, such as emerging market specialist Tundra Fonder, have been international since launch with retail distribution in Norway and Finland and institutional clients in Switzerland, South Africa, Canada and Denmark. Norron, on the other hand, has already launched its business in Sweden and Norway and its funds are also distributed in several European countries. Others, such as Didner & Gerge and Lannebo are big in Sweden and have ambitions to gain international clients – not least in other Nordic countries – but are still in the early stages of international expansion.
Kerstin Lindgren: "The first priority is to make sure that you are 'investable' for international investors. You must make sure you have a structure that works for investors and enables you to discuss your investment strategy. As an asset manager you don't want to have to explain the structure and which service providers you are working with. It should be 'tick-the-box'."
Mattias Martinsson: "I very much agree. It's a challenge to you have a Swedish domiciled fund as you have to explain a lot to potential investors."
Daniel Sundqvist: "We've seen the same thing in the meetings we have had outside Sweden. At Tundra you have niche products and if you are 'best-in-class' I think that clients will look and invest even if you have a Swedish domiciled fund. If that's not the case, then all practical things need to be in place to even be considered. We only have Swedish funds today, in addition to a Danish investeringsforening for the Danish market. We've considered a Luxembourg set-up and we're still having discussions internally. We have made a review of what could be done and recruited a sales person to be responsible for markets outside Sweden. The discussions will be resumed after the summer to better understand what we need to do for the markets we intend to focus on."
Alexander Zetterquist: "We have our funds in Luxembourg but I think even before you start considering venturing outside your home market you need to make sure you have the financial stability to do it. It takes time to establish a brand in a new market and to have your funds available on various platforms. You need to be realistic and critically review your offering in order to understand if an international expansion is the way forward. You also need to look at the regulatory aspects. International distribution is complex and can be seen as a grey area where the interpretation of the same regulation differs between countries. It's important to understand what you are able to do and not do once you get to France or Switzerland as a foreign fund company. You simply need to build your business model for international expansion."
Daniel Sundqvist: "And that takes a lot of internal resources, which we experienced when we looked at Luxembourg. It takes a lot of time from compliance and other parts of the organisation."
Mattias Martinsson: "When you started Alexander, how did you select and make sure that the administrator you selected would be able to handle everything, such as German taxes etc?"
Alexander Zetterquist: "Our viewpoint was that if they said they could do it we also expected them to do so. Having said that, we have also been very involved in the processes. We believe that developing the relationship with your current supplier is better than changing administrators for reasons that actually can be solved by joint dedication and cooperation."
Johan Elmquist: "In addition to what has already been mentioned you have to have the legal structure. If you talk to someone outside of Europe it's very clear that the SICAV is very well known and they would be able to invest directly. When you come with a Swedish domiciled fund you get a lot of questions and you have to explain a lot. Internally, this is very difficult for us at Didner & Gerge. We have always done everything internally and to move from Sweden in order to export our funds would be difficult. According to our calculations it's also better for the end client if we have a Swedish domiciled fund where we can do everything internally, compared to buying services for a Luxembourg vehicle."
Kerstin Lindgren: "It's very common in the Swedish market to do everything internally. International clients would rather appoint a third-party administrator and this brings us back to what I said earlier about 'tick-the-box'. Investors have the assurance they need if they know a reputable and independent administrator is appointed so they don't generally need to ask any additional questions. On the matter of whether everyone can do all markets, it's advisable to pick a provider that is already established to avoid delays in accepting new investor. Our clients value that we already service investors from 114 countries."
Daniel Sundqvist: "I think we are in a similar situation as Didner & Gerge, where the founders did everything internally and there is a strong culture. We have clients who invest directly with us and we don't want to outsource that to a third party. That said, I think we must put our foot down and decide where we want to grow going forward. If the long-term strategy is to have distribution outside of the Nordic region then I think we might have to accept that we can't do everything internally."
Mattias Martinsson: "Couldn't you do both? Maybe set up a feeder structure in Luxembourg?"
Daniel Sundqvist: "Absolutely, and we have even discussed moving the strategies where we think we will be able to gain international traction to Luxembourg. The problem is what will be overall most cost efficient and if you think about volumes it might be better to move everything."
Alexander Zetterquist: "For me the future is about outsourcing. The things you don't have in your business plan is what you outsource and then you focus on the things you do best – in our case that is to manage our funds. That's how we have built Norron over the last 10 years and I think that's the way forward. Do you think it will be possible to hold on to the concept of doing everything internally?"
Johan Elmquist: "I think Daniel put the finger on it when he said that the question is where we want to be in 5 or 10 years. We have a big direct business with some 18 000 clients and for us that is a big thing and all client communication has been done by our own staff in Uppsala. Today we have some clients outside the Nordics but those are clients who are very keen and have contacted us. It is growing but it's very slow."
Daniel Sundqvist: "I absolutely agree that outsourcing is a trend. The challenge is that vertically integrated asset managers who sit on their own distribution benefit in this new regulatory reality. As an independent manager I think we will need to focus and then the question is how much time and resources we spend on things other than what we are good at, which is to manage money."
Johan Elmquist: "One argument for us to continue to do things internally is that our institutional business is fairly small today, which means we can handle that manually. If that grows, it will of course put new demands on reporting etc, which in turn could trigger a move to outsource."
Kerstin Lindgren: "Our clients' needs have evolved over time and today they need us more than they did in the past when it comes to regulatory requirements and reporting. As their underlying clients have become more knowledgeable and many have to adhere to their own regulatory obligations, our clients need that support to make sure they have the right documentation for their clients and distributors."
Johan Elmquist: "For us it would also be about performance and risk reporting to sophisticated investors if that business grows. At some point it will not work to do this manually."
Kerstin Lindgren: "We continue to invest into delivering applications that are scalable and flexible enough to let asset manager's report on the things that matter to their clients. We add value by investing in developments that would be costly for an asset manager to develop themselves."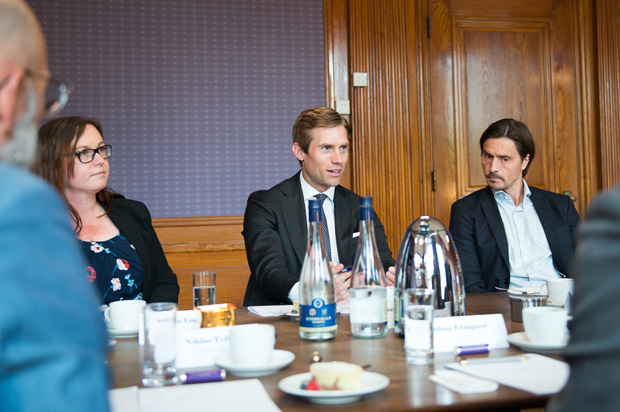 Niklas Tell: In your sales and marketing efforts – how do you balance a digital strategy where you make sure you're in all relevant data bases etc, with a more traditional model where you have sales people travelling to meet potential clients?
Mattias Martinsson: "In our experience it's very much 'don't-call-us-we-call-you' when it comes to selectors and gatekeepers, and everything comes through databases. That's a trend that is very strong. We do get a couple of requests per month via databases but it's very difficult to chase and set up meetings with investors."
Daniel Sundqvist: "We, similar to Didner & Gerge, have developed a fairly well-known brand in the Swedish market. That has helped us in the dialogue with selectors as they also know that their clients like our products. As soon as we venture outside Sweden we are in the same situation as you describe and you hardly get a reply if you send an email or call. Then it's critical to be in all the relevant databases."
Alexander Zetterquist: "That brings me back to what I said initially. You need financial stability in order to do that international push as it takes time. We've been going for ten years now and it took several years before anything happened. Even if you build a track record you also need to build your brand so that you are recognised among selectors also outside Sweden. You need patience but it also depends on your strategy. Either you are one of many who call everyone and try to set up a meeting or you make sure you keep a good relationship with a few gatekeepers by responding to their requests, which is becoming increasingly demanding."
Daniel Sundqvist: "I agree. It feels as if the RFP documents have expanded a lot over the last couple of years."
Kerstin Lindgren: "RBC approaches digitalisation from different angles, operationally as well as interfacing with clients. Where we have seen a lot of progress is within data, which is important when it comes to distribution. Our transfer agency business in Luxembourg has a significant market share and therefore has a substantial amount of underlying distribution data. We have put a lot of focus into transforming that data into useful insight for our clients to make informed decisions as to when they look to enter a new market. It helps our clients answer the question: Is it worth us trying to market this specific fund in a specific market?"
Johan Elmquist: "Coming back to your question on sales and marketing. Databases are absolutely important, as we want to be contacted. In the Nordic region I think it's still possible to set up meetings also with bigger investors. Outside the Nordic region it's very, very difficult. On the question of digitalisation 2019 will be a big year for us. As we have the ambition of doing everything internally, we must become more efficient and we will automate a lot."
Niklas Tell: If we talk about regulations, is it possible to rank what's most challenging?
Daniel Sundqvist: "I think the biggest challenge is not any single regulation as it's possible to adapt to new regulations. It's more the range and vast amount of new regulations that we have seen since the financial crisis that has been the real challenge."
Mattias Martinsson: "We were contacted a while back by a global investment bank who looked at one of our funds for potential distribution in five European countries plus Singapore. For us, that would mean doing research on six different countries to make sure we could comply with what was required and that's not possible for us to take on without some guaranteed flows. I think the industry needs to come up with an actual passport to make it a level playing field across market. We're not there today, which makes it difficult and too costly for smaller firms such as Tundra."
Alexander Zetterquist: "I don't think that any single regulation, or even the number of regulations, is the biggest problem. The really big problem is the ambiguity when it comes to interpreting new regulations."
Niklas Tell: What about Mifid II? There were a lot of discussions before it came into force but then we haven't heard much about it.
Daniel Sundqvist: "We've a fair distribution in the Swedish market and the apparent effect for us is that most distributors have started to talk about strategic partners. They are trying to make the offering narrower and make it easier to control what they are selling. For us it's probably been marginally positive, as we often have been able to become a strategic partner. The challenge is that the distributor also put pressure on us on fees with the argument that flows will become bigger going forward. Another thing is that big distributors with an in-house asset manager prefer in-house funds, which is apparent if you look at which asset managers are receiving flows today compared with five years ago."
Johan Elmquist: "I agree with Daniel. We see the same thing in Sweden. As we are talking about export, I must say that one thing that stands out is the fee level outside Sweden. From what we have seen the price pressure we see in Sweden is unique and that makes it interesting to explore opportunities outside the Nordic region."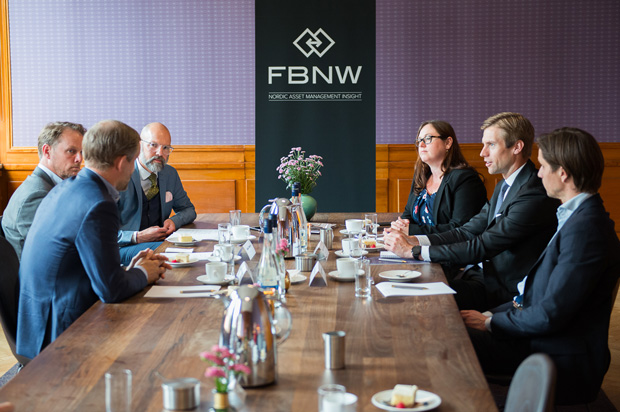 Niklas Tell: What about white labelling? Do you see increased interest for this?
Alexander Zetterquist: "We have discussed some white labelling solutions and it usually comes down to a discussion about price. I believe that those solutions will be more common when, and if, the regulator will challenge the handling of rebates in a more strict manner."
Daniel Sundqvist: "I think big distributors who have internal asset managers are looking to build capacity internally rather than doing white labelling. That said, we have very local products and local distributors have these capacities internally already."
Johan Elmquist: "I think if the interpretation of Mifid II had been tougher we would have seen a lot of white label solutions. I think a lot of distributors had this in their plans but now that they are able to keep kick-backs we don't see a big take up in white label solutions."
Niklas Tell: What's your take on ESG and how has that impacted your sales process?
Alexander Zetterquist: "It has absolutely exploded. Today, there are as many questions relating to ESG as there are regarding everything else. We encourage this development and believe that focusing on ESG issues is very important, but we would like to see a more structured and focused method when it comes to collecting the data."
Johan Elmquist: "I agree. If you look at the annual reviews today compared with some three years ago you see a big difference with some 30 per cent of the questions today will be on ESG. It takes a lot of time and I also wonder what happens on the other end with all of our answers but it triggers us as an asset manager to become even more transparent on what we do."
Mattias Martinsson: "One obvious challenge was that we had to do a lot internally when we started as there weren't that much ESG data available on frontier markets when we first started."
Daniel Sundqvist: "We see our engagement and dialogue with companies as our most important ESG work. However, the dialogue between the fund manager and management in the companies we invest in is difficult to quantify and communicate to selectors and sometimes we are not even allowed to communicate on a specific engagement. That has been a challenge in our relationship with selectors, but it feels like we are getting there and that more selectors understand the way we work with ESG."
Mattias Martinsson: "I think it will become more nuanced going forward as everyone will focus more holistically on what demands society will have on companies and the SDGs are probably the best proxy for that today. As asset managers I think we will have to live with the fact that there are different standards and different measurements for a long time."
Niklas Tell: Before we close – if you look ahead what are some of the biggest factors impacting international distribution going forward?
Daniel Sundqvist: "The big challenge for us as an active boutique is of course if the passive trend continues. We have had markets since the financial crisis where it has been fairly easy to make money by just adding risk and that has made it more difficult for an active manager to stand out from the crowd."
Kerstin Lindgren: "It is easier to distribute funds internationally today which has increased the competition in many of the countries. The international market is now more accessible through technology, which makes competition all the more fierce. But it all still boils down to the fundamentals of marketing, the right product, to the right person, in the right place for the right price."
Participants
Kerstin Lindgren - RBC Investor & Treasury Services
Mattias Martinsson – Tundra Fonder
Alexander Zetterquist - Norron Asset Management
Johan Elmquist - Didner & Gerge
Daniel Sundqvist - Lannebo Fonder