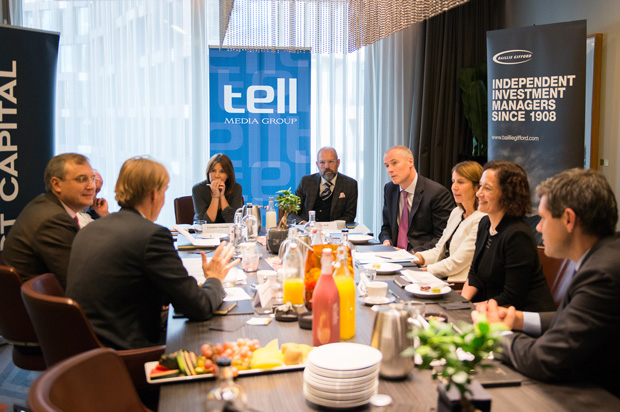 Where next for emerging market equities?
In mid-September, Tell Media Group, in co-operation with Baillie Gifford, Robeco and East Capital, invited four Norwegian institutional investors and manager selectors to discuss emerging market equities. Tell Media Group founder Niklas Tell and Nordic Fund Selection Journal editor Caroline Liinanki moderated the roundtable.
Niklas Tell 2018-10-30
The discussion, which was held at The Thief Hotel in Oslo, kicked off with Niklas Tell asking the fund managers at the table to provide their thoughts on emerging market equities after the tougher times the asset class has run into this year.
Fabiana Fedeli, head of global fundamental equities and portfolio manager in the emerging markets equities team at Robeco said: "It was a perfect storm and a few elements that came together. On their own, they would not have hurt the market and would certainly not stop the outperformance over developed market equities. However, put together they were formidable. If you think about the Fed hiking rates, typically that has never been much of a headwind for emerging market equities. Related to this, we had a strong dollar and that hurt some weaker emerging markets. We also had some weakness in earnings relative to expectations. Then, the biggest factor was the concern about trade wars. If you look at fundamentals across emerging markets, it's still fairly solid but the fear that the trade war could escalate created a perfect storm."
When asked to look back at the development of the asset class and highlight the main things that have changed, Fredrik Wilander, the head of allocation and selection at DNB Asset Management said: "In terms of what has changed it's clearly China, the importance of Asia and the importance of the technology sector. Going forward, the inclusion of China A-shares will, of course, be very important." He also said that the question of global emerging markets versus regional exposure is a tough one because as of today, they don't have a strategic or tactical view on regions. "One reason is simply because we don't have the resources to do that. We have a team of five managing the tactical asset allocation portfolios and we need to look after a lot of asset classes already. We have a global emerging market exposure and we therefore need to find a manager who can do that regional allocation for us, but this might change going forward".
The roundtable discussion was published in issue 05 of Nordic Fund Selection Journal and a PDF of the story can be found here.